"Guld-höna" (gold-hen) and "guld-ko" (gold-cow) meant "ladybug" in Sweden.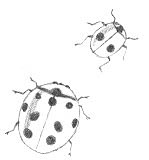 Guld-höna, guld-ko!
Gold-hen, Gold-cow!
Nursery Rhyme
Nursery Rhyme
Guld-höna, guld-ko!
Flyg öster, flyg vester,
Dit du flyger der bor din älskade!

Gold-hen, gold-cow!
Fly east, fly west,
You'll fly to where your sweetheart lives.
Notes
Here's a similar version as found in the book Runa: en skrift för nordens fornvänner (1844) by Riis...

Gull-höna, gullknopp!
Flyg söder, flyg norr;
Flyg dit min käraste bor.
Åt det håll, dit nu den lilla flyger
- der bor han, eller hon.

Loose translation:

Gold-hen, gold bud!
Fly south, fly north;
Fly to where my dearest lives.
The direction, which the little one now flies
- where he lives, or she.
Thanks and Acknowledgements
This rhyme and translation can be found in Popular Rhymes and Nursery Tales, A Sequel to the Nursery Rhymes of England (1849) by James Orchard Halliwell.

Halliwell wrote, "For the two pretty Swedish songs which follow I am indebted to the MS. of Mr. Stephens. The first [this rhyme] is common in the southern parts of that country, the other in the northern."

Translated modernized by Mama Lisa.
Tack så mycket!