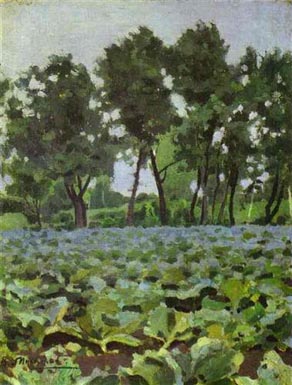 Šla Nanynka do zelí
Nancy Went to the Cabbage Field
Children's Song
Children's Song
Šla Nanynka do zelí,
do zelí, do zelí,
natrhala lupení, lupeníčka.
Přišel za ní Pepíček,
rozšlapal* jí košíček.
Ty, ty, ty, ty, ty, ty,
ty to budeš platiti.

Já to platit nebudu, nebudu, nebudu,
radši se dám na vojnu, na vojničku,
na vojnu se nedávej,
truc rodičům nedělej,
udělám, udělám,
na vojnu se přece dám.
Nancy went to the cabbage field,
Cabbage field, cabbage field,
She picked leaves, little leaves.
Joe came up to her
And trampled her little basket.
You, you, you, you, you, you,
You will pay for it.

I'm not going to pay for it, I, I,
I would rather go to the army.
Don't go to the army,
Don't be stubborn**
I will do it, I will do it,
I will go to the army.
Notes
*Sometimes this word is spelled "pošlapal" - but it still means "trampled".

**More literally "don't do it against your parents' will".

Hana wrote:

"Vojna means army or military service or war (for example Napoleonic era - Napoleonic war). From the context of the song it is very probable that VOJNA is used in the meaning of war.

I think that the diminutive 'vojničku' is used to fit in to the rhythm of the music. One of the versions known is 'radši se dám na vojnu, na vojnu dám'."

Many thanks to the Hruska-Valach Family of Lewistown, Montana for recording and sending this song.

Thanks and Acknowledgements
Many thanks to Hana Cice for contributing and translating this song.

Image: Cabbage Field with Willows (1893), Victor Borisov-Musatov.
Dêkuji!