En rallare, en rallare, på Roslagsgatan gick
A Hobo Was Walking Down Roslags Street
Children's Song
Children's Song
En rallare, en rallare, på Roslagsgatan gick,
Han hade stora öron och näsan var en klick.
Byxorna de hasade och skorn mit it tu,
Han skulle ut och möta sin kära lilla fru.
I hörnet stog en annan och rökte sina bloss,
Han hadde tjusig, lokig panna, "kom, Tjabo, ska vi sloss?"
Och Tjabo fick en skalle, en skalle så de skräll, och
"Gör dig inte mallig en annan lördag kväll."
Tjabo han gick vidare och hitta denna bit,
han trodde det var tobak, men det var dynamit.
Han stoppade i pipan och sedan tände på,
och Tjabo gick i bitar men pipan höll endå.

A hobo was walking down Roslags Street;
He had big ears and his nose was a dollop.
His pants dragged on the ground and his shoes were broken;
He was going to meet his darling little wife.
On the corner of the street he saw a man smoking a cigarette;
He had beautiful curly hair. "Come on Hobo, you want to fight?"
Hobo got a punched in the head so that it rattled,
"Don't be so smart next Saturday night!"
Hobo wandered on and found a thing
He thought was tobacco, but it was dynamite.
So he stuffed it in his pipe and lit it;
Hobo blew into pieces, but the pipe remained intact.
Notes
Laila sent this song with the note: "Here are 2 songs that I remember from my childhood. I was born in 1943 in Stockholm. I sang the following song on Farbror Svens Radio programme, Sveriges Radio, in about 1949 when I was 6 years old.

Min docka, min pojke,
Vad jag älskar dig,
Du har ingen annan,
Utan nån annan än mig

(Rough English Translation:
My doll, my boy;
How I love you,
You have nobody else;
Without someone other than me.)

It may have had more verses but, if so, I don't remember them.

The song I wanted to sing on the Radio, but to my mother's relief, I did not sing, was ("En rallare, en rallare, på Roslagsgatan gick", the song at the top of the page)."

Sheet Music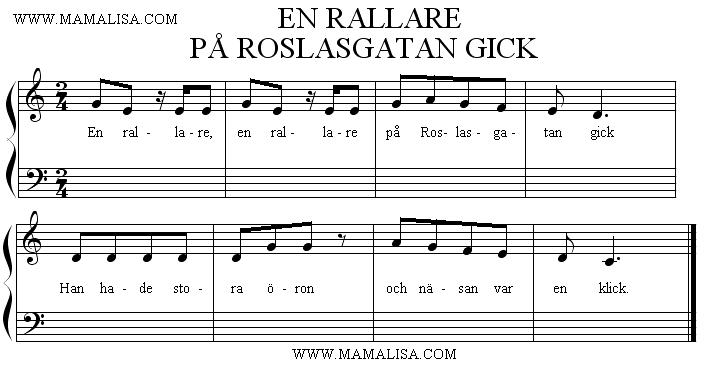 Thanks and Acknowledgements
Thanks to Laila Håkansson Ware for contributing these two songs and for the translation of "En rallare, en rallare, på Roslagsgatan gick".
Tack så mycket!