This is a circle game that's played like "Ring around the Rosie".

"In our country, little children like this song and 'falling down' very much. A mother and one child, the whole family with a little child... three siblings... all can play this game..." -Hana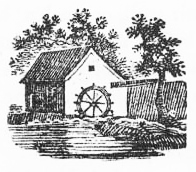 Kolo kolo mlýnský
Mill Wheel, Round and Round
Kolo kolo mlýnský,
Za čtyři rýnský...
Kolo se nám polámalo,
Mnoho škody nadělalo,
Udělalo bác!

Vezmeme si hoblík, pilku,
Zahrajem si ještě chvilku.
Až to všechno spravíme,
Takhle se zatočíme.
Mill wheel, round and round
For four golden coins...
We broke the wheel
We did a lot of damage,
It went boom!

Taking a plane and a saw,
Let's play a little longer,
Until we fix the wheel,
This is how we'll turn.

Game Instructions
At the beginning of the song, the children hold hands and form a circle. They walk around slowly in a circle while singing... at the end of the 1st verse, they imitate the broken wheel and simply fall to the ground. At the end of the 2nd verse, the kids stand up and spin around with arms wide open.
Comments
Here's a translation by Jana (1st verse) and Jitka (2nd verse):

Mill stone, mill stone,
Worth four golden coins
Broke apart and did us harm,
As it fell on the ground...
It went boom!

We'll take a plane and saw,
We'll play a little longer,
And after we repair the wheel,
We'll spin like this.

Jana wrote, "'Bác' is an interjection children use to say something has fallen."


Sheet Music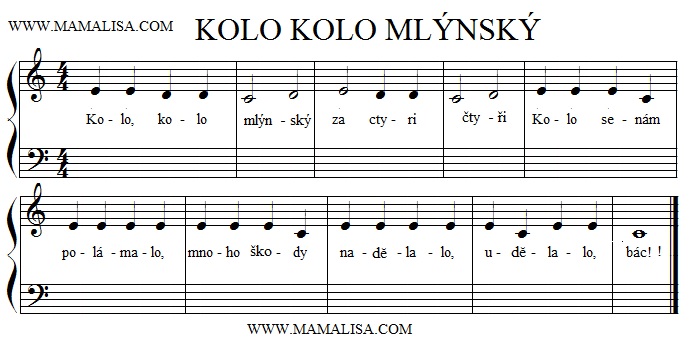 Thanks and Acknowledgements
1st translation by Lisa Yannucci.

Many thanks to Jana Bínová for translating the 2nd version of the 1st verse. Many thanks also to Jitka Peterikova for contributing and translating the 2nd version of the 2nd verse. Thanks to Hana for commenting on it.
Dêkuji!