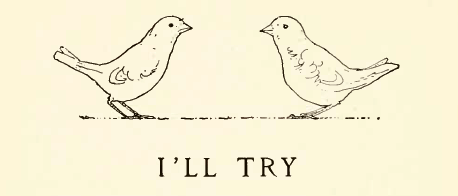 Two Robin Redbreasts Built Their Nest
Two Robin Redbreasts built their nest
Within a hollow tree;
The hen sat quietly at home,
The cock sang merrily;
And all the little ones said:
"Wee, wee, wee, wee, wee, wee."

One day the sun was warm and bright,
And shining in the sky,
Cock Robin said:
"My little dears,
'T is time you learned to fly;"
And all the little young ones said:
"I'll try, I'll try, I'll try."

I know a child, and who she is
I'll tell you by and by...
When Mamma says:
"Do this" or "that",
She says: "What for?" and "Why?"
She 'd be a better child by far
If she would say:
"I'll try."
Thanks and Acknowledgements
This nursery rhyme can be found in The Big Book of Nursery Rhymes (circa 1920) edited by Walter Jerrold (1865 - 1929) and illustrated by Charles Robinson (with some graphical editing of the above image by Lisa Yannucci).