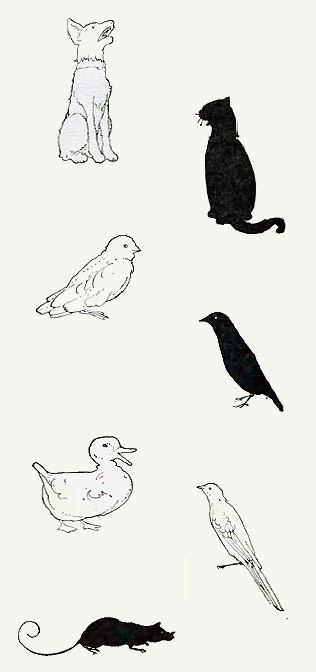 Bow-wow, says the dog;
Mew-mew, says the cat;
Grunt, grunt, goes the hog;
And squeak, goes the rat.
Chirp, chirp, says the sparrow;
Caw, caw, says the crow;
Quack, quack, says the duck;
And what cuckoos say, you know.

So, with sparrows and cuckoos,
With rats and with dogs,
With ducks and with crows,
With cats and with hogs,
A fine song I have made,
To please you, my dear;
And if it's well sung,
'T will be charming to hear.
Thanks and Acknowledgements
This nursery rhyme can be found in The Big Book of Nursery Rhymes (circa 1920) edited by Walter Jerrold (1865 - 1929) and illustrated by Charles Robinson (with some graphical editing of the above image by Lisa Yannucci).