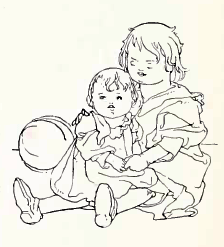 I Love You Well, My Little Brother
I love you well, my little brother,
And you are fond of me;
Let us be kind to one another,
As brothers ought to be.
You shall learn to play with me,
And learn to use my toys;
And then I think that we shall be
Two happy little boys.
Comments
Claire B. wrote:

"I read this poem to my two sons during 1975 and now I am teaching my twin boy grandchildren aged 2 the same poem.

I love it!!!!!

Claire B."
Thanks and Acknowledgements
This nursery rhyme and illustration can be found in The Big Book of Nursery Rhymes (circa 1920) edited by Walter Jerrold (1865 - 1929) and illustrated by Charles Robinson (with some graphical editing of the above image by Lisa Yannucci).

Thanks to Claire B. for commenting on the poem!