"Merrily Sang the Monks of Ely" is about King Canute. Canute the Great (also known as Cnut or Knut) was a Viking King of Denmark, Norway, England and parts of Sweden. He was born about 994 and died November 12, 1035.

Merrily Sang the Monks of Ely
Merrily sang the monks of Ely
As King Canute came rowing by.
"Row to the shore, knights," said the king,
"And let us hear these churchmen sing."
Notes
Below is another version of this song - in its original old English and with a translation into Modern English. We believe this is the oldest known version of this song. Many sources say that King Knut created this song himself when hearing the monks singing in the Cathedral of Ely while he was on the River Cam in his barge (possibly on Candlemas):

Original Old English:

Merie sungen ðe muneches binnen Ely,
Ða Cnut Ching reu ðer by;
Roweð, Cnihtes, noer ðe land,
And here we þes muneches sæng.

Modern English

Merrily sang the monks of Ely
When Cnut King rowed by.
Row, boatmen, near the land,
And hear we these monks sing.

This version would have originally rhymed since in Old English "land" and "sæng" rhymed.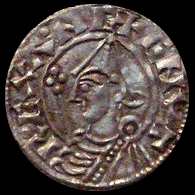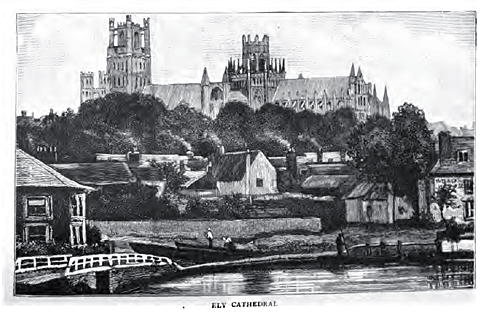 Thanks and Acknowledgements
The 1st version of the rhyme and the 1st illustration can be found in Nursery Rhymes illustrated by Claude Lovat Fraser (circa 1922). The coin is of Knut the Great from a photo from Wikipedia. The drawing of Ely Cathedral comes from Early Britain by Alfred John Church (1889). The specific Cathedral in the drawing wouldn't have been there at the time of King Cnut, since it was starting to be built in 1083... before that there was a monastery.