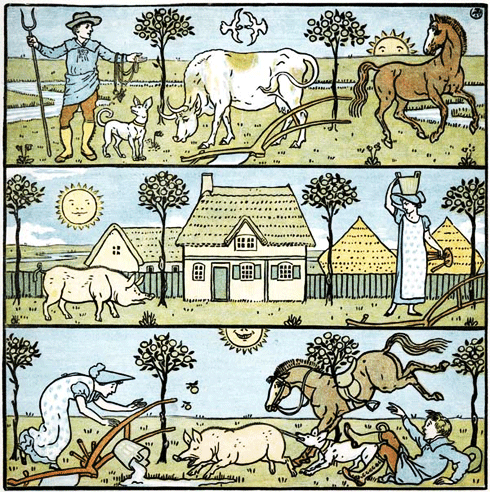 Once There Lived a Little Man
1. Once there lived a little man,
Where a little river ran,
And he had a little farm and little dairy O!
And he had a little plough,
And a little dappled cow,
Which he often called his pretty little Fairy O!

2. And his dog he called Fidelle,
For he loved his master well;
And he had a little pony for his pleasure O!
In a sty not very big
He'd a frisky little pig,
Which he often called his little piggy treasure O!

3. Once his little maiden, Ann,
With her pretty little can,
Went a-milking when the morning sun was beaming O!
When she fell, I don't know how,
But she stumbled o'er the plough,
And the cow was quite astonished at her screaming O!

4. Little maid cried out in vain,
While the milk ran o'er the plain,
Little pig ran grunting after it so gaily O!
While the little dog behind,
For a share was much inclined,
So he pulled back squeaking piggy by the taily O!

5. Such a clatter now began
As alarmed the little man,
Who came capering from out his little stable O!
Pony trod on doggy's toes,
Doggy snapped at piggy's nose,
Piggy made as great a noise as he was able O!

6. Then to make the story short,
Little pony with a snort
Lifted up his little heels so very clever O!
And the man he tumbled down,
And he nearly cracked his crown,
And this only made the matter worse than ever O!

Sheet Music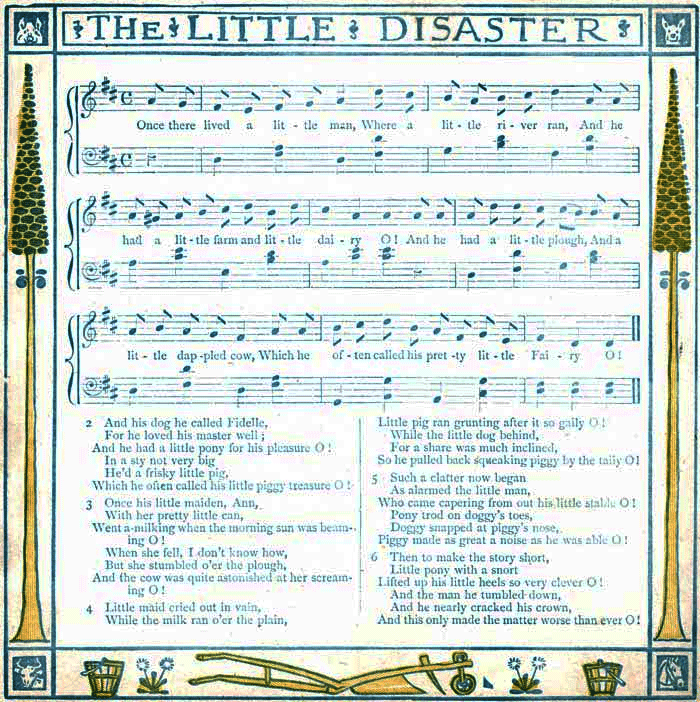 Thanks and Acknowledgements
The song, illustration, score and tune are all from The Baby's Bouquet, A Fresh Bunch of Rhymes and Tunes by Walter Crane (1878).