Cân y melinydd
The Miller's Song
Traditional Song
Traditional Song
Mae gen i dý cysurus
A melin newydd sbon
A thair o wartheg brithion
Yn pori ar y fron.

Chorus
Weli di, weli di, Mari fach
Weli di, Mari annwyl

Mae gen i drol a cheffyl
A merlyn bychan twt
A deg o ddefaid tewion
A mochyn yn y cwt.

Mae gen i gwpwrdd cornel
Yn llawn o lestri te
A dresel yn y gegin
A phopeth yn ei le.

Mae gen i ebol melyn
Yn codi'n bedair oed
A phedair pedol arian
O dan ei pedwar troed.

Mi neidith a mi brancith
O dan y feinir wen,
Mi redith ugain milltir
Heb dynnu'r ffrwyn o'i ben.

Mae gen i iâr a cheiliog,
A buwch a mochyn tew
A rhwng y wraig a minnau,
Wy'n ei gwneud hi yn o lew'

Fe aeth yr iâr i rodio,
I Arfon draw mewn dig
A daeth yn ôl un diwrnod
A'r Wyddfa yn ei phig.
I have a cosy cottage,
A newly builded mill.
And three contented dappled cows
Are grazing on the hill.

Chorus
Do you see? do you see, little one?
Do you see Mari, Mari dear?

I have a horse and wagon
A pony, small, with grace,
And ten well-fed and woolly sheep
A sty with pig in place.

I have a corner cupboard,
With china for our tea
A dresser in the kitchen
And all placed tidily.

I have a golden foal, who
Is four years old, and moves-
With four, fine, silver horse shoes
Upon his four stout hooves.

He leaps and prances gaily
Beneath a maiden fair.
Full twenty miles he'll carry her
Of bridle unaware.

I have a hen and cock'rel
A fatted pig and cow
And with my wife here at my side
I'm very happy now.

The cock'rel went a'walking
To Arfon far last week
And came back home at daybreak,
With Snowdon in his beak.
Notes
The translation is singable.
Comments
Monique from Mama Lisa's World en français said, "Alan Stivell, who recorded part of it in Chemin de terre, said that Welsh children would sing it in the leeks fields, this is why I wished it posted here. Besides, I love it!"

Sheet Music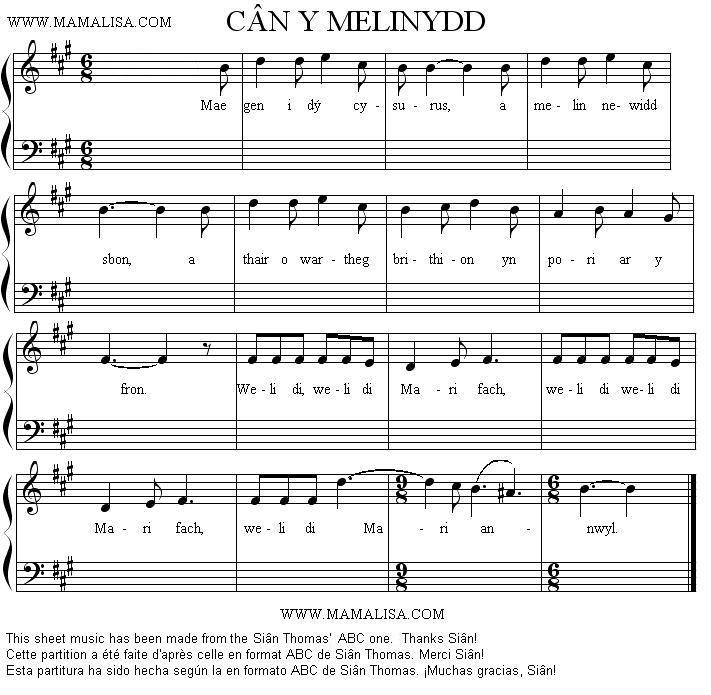 Thanks and Acknowledgements
Many thanks to Siân Thomas and Nigel Parsons, members of The Mudcat Café for kindly allowing us to use their singable translation of this song and use Siân's ABC format score to make the sheet music.
Diolch ÿn fawr!