This riddle's pretty funny once you know the answer and work out what it means!
Two Legs Sat Upon Three Legs
Two legs sat upon three legs,
With one leg in his lap;
In comes four legs,
And runs away with one leg.
Up jumps two legs,
Catches up three legs,
Throws it after four legs,
And makes him bring back one leg.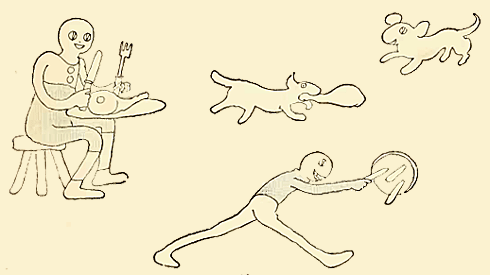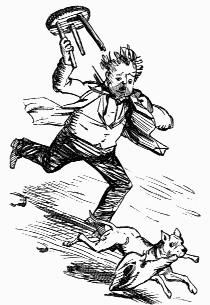 Comments
Scroll down for the answer…
*
*
*
*
*
*
*
*
*
*
*
*
Answer: One leg is a leg of mutton; two legs, a man; three legs, a stool; four legs, a dog.
Thanks and Acknowledgements
This rhyme can be found in The Nursery Rhyme Book, edited by Andrew Lang and illustrated by L. Leslie Brooke (1897). The illustration is from The Big Book of Nursery Rhymes (circa 1920) edited by Walter Jerrold (1865 – 1929) and illustrated by Charles Robinson.