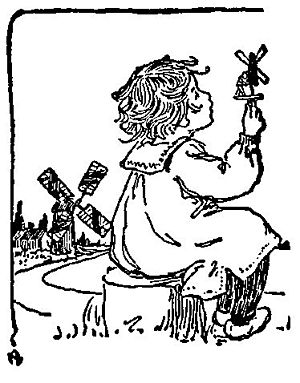 Blow, Wind, Blow! And Go, Mill, Go!
Blow, wind, blow! and go, mill, go!
That the miller may grind his corn;
That the baker may take it,
And into rolls make it,
And send us some hot in the morn.


Thanks and Acknowledgements
This rhyme can be found in The Nursery Rhyme Book, edited by Andrew Lang and illustrated by L. Leslie Brooke (1897) and The Mother Goose; Containing All The Melodies The Old Lady Ever Wrote, edited By Dame Goslin (1850). The illustration can be found in "A Book of Nursery Rhymes" (1901) by Charles Welsh.