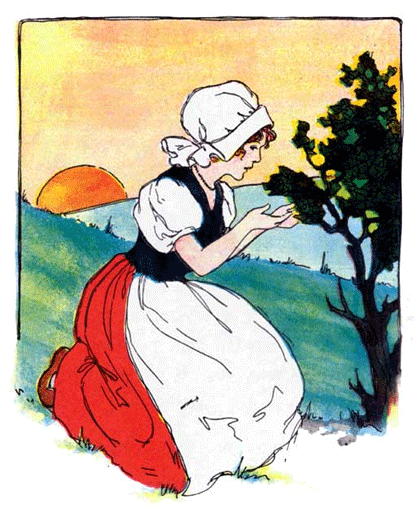 The fair maid who, the first of May,
Goes to the fields at break of day,
And washes in dew from the hawthorn tree,
Will ever after handsome be.
Notes
Monique wrote from France, "I've read a few times that it's very healthy to 'bathe' naked in the morning dew -or if you can't 'bathe' to walk barefoot in the grass before the sun dries it up. I've always enjoyed doing that [walking barefoot] at my friend's country house, in Summer."
Thanks and Acknowledgements
This proverb can be found in The Nursery Rhyme Book, edited by Andrew Lang and illustrated by L. Leslie Brooke (1897). The illustration can be found in The Real Mother Goose (1916), illustrated by Blanche Fisher Wright.