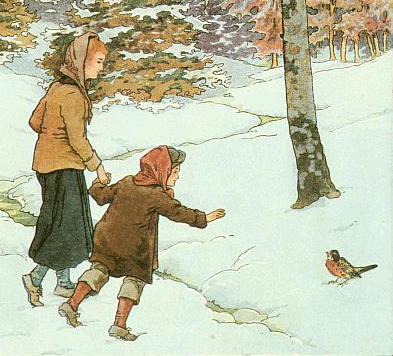 The little robin grieves
When the snow is on the ground,
For the trees have no leaves,
And no berries can be found.

The air is cold, the worms are hid;
For robin here what can be done?
Let's strow* around some crumbs of bread,
And then he'll live till snow is gone.
Notes
*Obsolete word from "strew", meaning "scatter".
Thanks and Acknowledgements
The illustration is from Mother Goose, The Original Volland Edition (1915), edited and arranged by Eulalie Osgood Grover and illustrated by Frederick Richardson (with some graphical editing by Mama Lisa). This rhyme can be found in The Real Mother Goose (1916), illustrated by Blanche Fisher Wright.