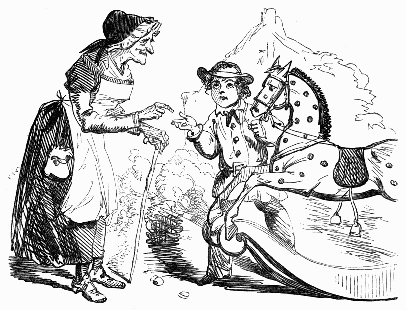 I Had a Little Hobby Horse
I had a little hobby-horse,
And it was dapple grey*;
Its head was made of pea-straw**,
Its tail was made of hay.

I sold it to an old woman
For a copper groat***;
And I'll not sing my song again
Without a new coat.
Notes
*Dapple grey refers specifically to horses that are grey with darker colored spots or patches on them.
**Pea-straw refers to the plant (i.e. leaves and stalks) of the pea.
***A European coin used in the 13th century. The English groat was equal to 4 pence.

*****

Here's another version of this rhyme:

I had a little hobby horse,
His name was Tommy Gray,
His head was made of pease straw,
His body made of hay;
I saddled him and bridled him,
And rode him up to town,
There came a little puff of wind
And blew him up and down.

This version can be found in Children's Literature, A Textbook of Sources for Teachers and Teacher-Training Classes (1920) by Charles Madison Curry and Erle Elsworth Clippinger.

*****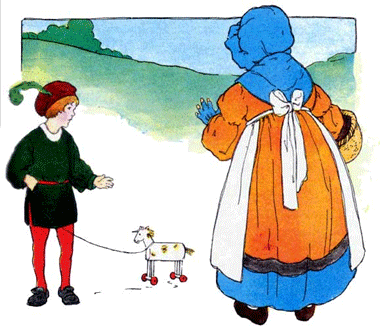 Thanks and Acknowledgements
This rhyme can by found in Denslow's Mother Goose (1901). The illustration is from The Real Mother Goose (1916), illustrated by Blanche Fisher Wright.