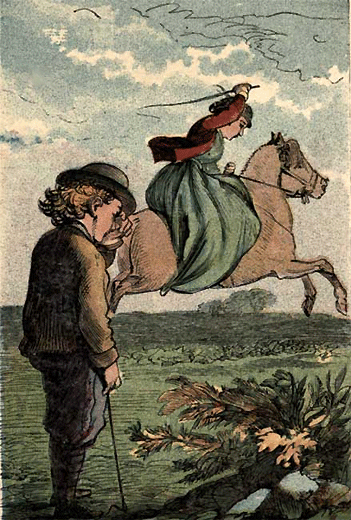 I Had a Little Pony,
His Name Was Dapple Grey
I had a little pony,
His name was Dapple Grey,
I lent him to a lady,
To ride a mile away.

She whipped him, she slashed him,
She rode him through the mire;
I would not lend my pony now,
For all the lady's hire.
Notes
Here's another version:

I had a little pony
They called it Dapple Gray,
I lent it to a lady
To ride a mile away.
She whipped it, she slashed it,
She drove it through the mire.
I will not lend my pony more,
For all the ladies' hire.

Here's a version from 1920 sent by Barbara Huet:

I had a little horse, his name was Dapple Gray,
His legs were made of cornstalks, his body made of hay.
I saddled him and bridled him and rode him off to town;

Up came a puff of wind and blew him up and down.
The saddle flew off and I let go -
Now didn't my horse make a pretty little show?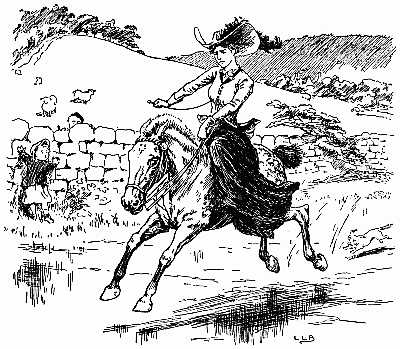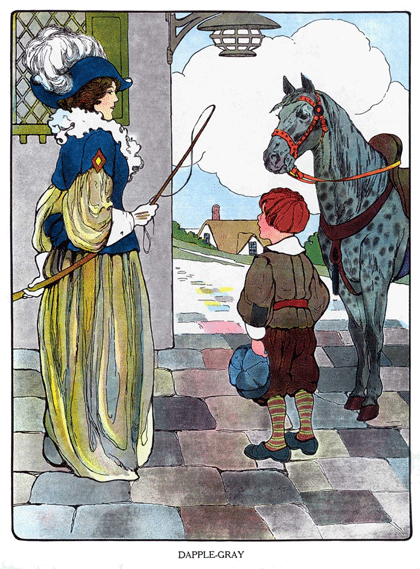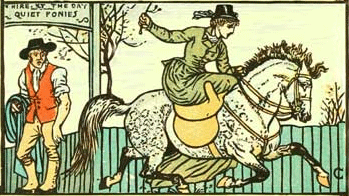 Thanks and Acknowledgements
The 1st illustration comes from The National Nursery Book and the 2nd illustration comes from The Nursery Rhyme Book, edited by Andrew Lang and illustrated by L. Leslie Brooke (1897). The 3rd illustration is from The Real Mother Goose (1916), illustrated by Blanche Fisher Wright. The 4th illustration can be found in The Sleeping Beauty Picture Book, illustrated by Walter Crane.

Thanks to Barbara Huet for sharing another version!