Children chanted this rhyme in Great Britain to start races…
Bell horses, bell horses,
What time of day,
One o'clock, two o'clock,
Three and away*.
Notes
*Or Time to away.

Below are two versions of this rhyme from The Little Mother Goose (1912), illustrated by Jessie Willcox Smith, and printed in the US:

Bell Horses, Bell Horses

Bell-horses, bell-horses,
What time of day?
One o'clock, two o'clock,
Off and away.

Good Horses, Bad Horses

Good horses, bad horses,
What is the time of day?
Three o'clock, four o'clock,
Now fare you away.

*****

Here are 2 more versions with instructions to play the game from "The Traditional Games of England, Scotland, and Ireland (Vol I of II) with Tunes, Singing-Rhymes and Methods of Playing" (1894), collected and annotated by Alice Bertha Gomme:

Bell-horses

I.
Bell-horses, bell-horses, what time of day?
One o'clock, two o'clock, three, and away!
Bell-horses, bell-horses, what time of day?
Two o'clock, three o'clock, four, and away!
Five o'clock, six o'clock, now time to stay!

""Stanton Lacey (Burne's Shropshire Folk-lore, p. 520).

II.
Bellasay, bellasay, what time of day?
One o'clock, two o'clock, three, and away.

""Halliwell's Nursery Rhymes, p. 283.

- The children form long trains, standing one behind the other. They march and sing the first four lines, then the fifth line, when they stand and begin again as before.

- Miss Burne suggests a connection with the old pack-horses. Mr. Addy (Sheffield Glossary) gives the first two lines as a game. He says, "The first horse in a team conveying lead to be smelted wore bells, and was called the bell-horse." I remember when a child the two first lines being used to start children a race (A. B. G.). Chambers (Pop. Rhymes, p. 148) gives a similar verse, used for starting a race:""
Race horses, race horses, what time of day? One o'clock, two o'clock, three, and away; and these lines are also used for the same purpose in Cheshire (Holland's Glossary) and Somersetshire (Elworthy's Glossary). Halliwell, on the strength of the corrupted word "Bellasay," connects the game with a proverbial saying applied to the family of Bellasis; but there is no evidence of such a connection except the word-corruption. The rhyme occurs in Gammer Gurton's Garland, 1783, the last words of the second line being "time to away."
Comments
Please let us know if you grew up chanting this rhyme – we'd like to know if it's still used to start races. Please email me to let us know about it. –Mama Lisa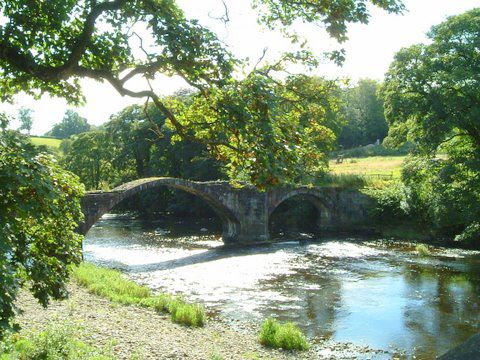 Margaret wrote:

"Hi there,

Bell Horses, Bell Horses, What time of day?,One o'clock, Two o'clock, Three and away

This is a traditional English song which might even still be sung in school yards in England: it certainly was in my mother's and my daughters' days but, oddly, I never came across it in mine. Children got together in line with arms around each other's shoulders, skipping along and lifting up their knees high as they did so whilst chanting the song. They were imitating teams of packhorses.

Packhorses were in use for 500 years in England and the lead horse wore bells and brightly coloured ribbons (the Bell Horse). The flanking bells were to warn other teams, especially in darkness, on the narrow and often precipitous routes they took. It must have been exciting when these teams arrived in villages as not only would they be bringing commodities but bearing news of local and national importance.

Best wishes

Margaret"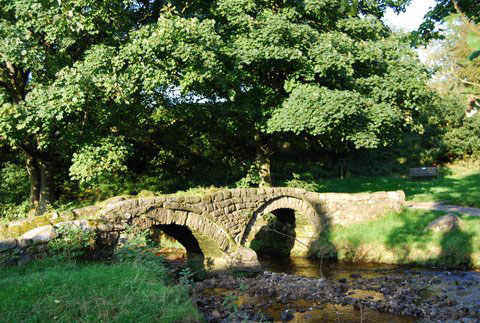 Later, Margaret wrote more:

"In England, particularly in the hillier regions, we have lots of evidence of packhorse days. The high-level routes over difficult terrain were abandoned when tarmac roads were built. Some of the packways were so steep that they couldn't even be used by wheeled carts and so have remained as a wonderful reminder of these trails. In these instances the wonderfully quaint bridges still have no parapets as the bulging panniers that were slung either side of the packhorse needed clearance on these narrow bridges, traditionally only about six feet wide. Originally they carried commodities such as lime, coal and salt and as we became an increasing consumer society then everything went by packhorse. Our oldest removal company, Pickfords, started their business on packhorses.

Best wishes with your site.

Margaret"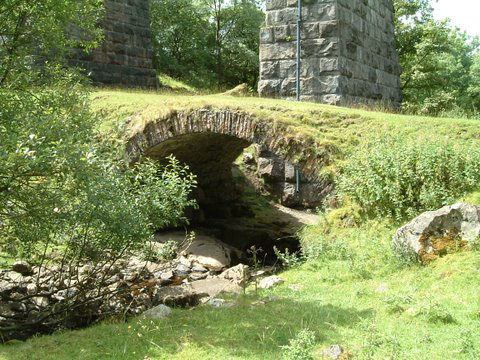 *****

Nigel Scotchmer wrote from Ontario, Canada: "My understanding from my Dad who grew up in the 20's is that this song was actually indicating when they could go home after a long day's work. Starting early, their day walking behind the horse and plough was over by one o'clock and it was time to away...

My Mum and Dad were from East Anglia, in Suffolk. And actually my Mum's father, left school at eight, and was called a 'half-man', and was paid half the wage of a man, and went to work behind the plough. He was scared of the plough horses, and ran away to sea..... This would have been before WWI. My dad emigrated to Canada in the 1960s. Funnily enough, this picture on a tin of mine, (in which I keep oats), always reminds me of my late Dad and that nursery rhyme...."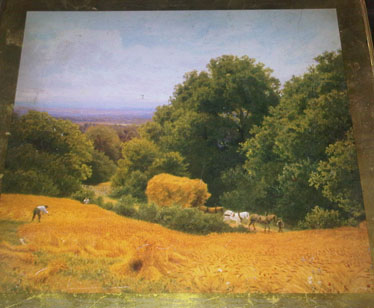 *****
Rex North wrote:

"My wife Eve recalls that this chant was used in the playground in the late 1940's/early 50's in York, England.

Two children would form the team of horses with a skipping rope around their middle for the reins, with a third child acting as a 'driver' holding the ends of the skipping rope ; this child would stand behind the two 'horses'.

Similar 'teams' of 3 children would be formed up, and stand in a line ; they would all chant together :-

"Bell horses, bell horses what time of day ?
One o'clock, two o'clock three and AWAY"

At the word 'away' the teams would then go 'helter-skelter' across to the other end of the playground."
Thanks and Acknowledgements
These rhymes can also be found in The Nursery Rhymes of England (1843) by James Orchard Halliwell. Percy Green included this song in his History of Nursery Rhymes (published in London in 1899). Thanks to Margaret B Dickinson for commenting on this song and for sharing the photos of packhorse bridges. Thanks to Nigel Scotchmer and Eve and Rex North for sharing their remembrances of this song.