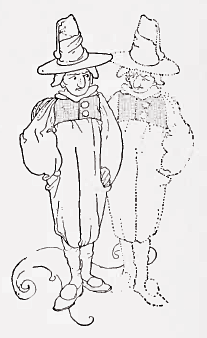 As I walked by myself,
And talked to myself,
Myself said unto me,
Look to thyself,
Take care of thyself,
For nobody cares for thee.

I answered myself,
And said to myself,
In the self-same repartee,
Look to thyself,
Or not to thyself,
The self-same thing will be.

Thanks and Acknowledgements
This rhyme and illustration can be found in The Big Book of Nursery Rhymes (circa 1920) edited by Walter Jerrold (1865 - 1929) and illustrated by Charles Robinson (with some graphical editing of the image above by Lisa Yannucci).
Thanks so much!