This song is sung in Malayalam.

Malayalam is one of the official languages of India. It's predominately spoken in the southern state of India called Kerala.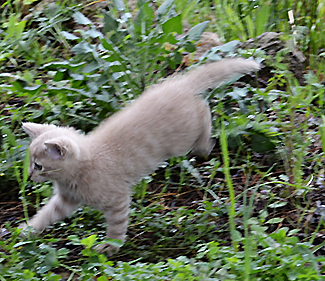 കൊച്ചു പൂച്ച കുഞ്ഞിനൊരു കൊച്ചമളി പറ്റി
The Cute Little Kitten Met with a Small Accident
കൊച്ചു പൂച്ച കുഞ്ഞിനൊരു കൊച്ചമളി പറ്റി
കാച്ചി വച്ച ചൂട് പാല് ഓടി ചെന്ന് നക്കി
കുഞ്ഞു നാവ് പൊള്ളിപ്പോയി കുഞ്ഞി പൂച്ച കേണു
മ്യാവു .. മ്യാവു .. മ്യാവു .. മ്യാവു ..

The cute little kitten met with a small accident.
It ran and drank the boiled milk in a hurry.
The little tongue was burnt and it started crying.
Meow… Meow… Meow… Meow…
Notes
Pronunciation:

Kochu poocha kunjinoru kochamali patti
Kachi vacha choodu pal oodi chenu nakki
kunju navu polliyappol kunji poocha kenu
Myau.. Myau.. Myau.. Myau..
Game Instructions
1. Spin finger in place.
2. Run in place.
3. Point to mouth and then rest chin on hands.
5. Put fingers up on top of your head like a cat's ears.



Sheet Music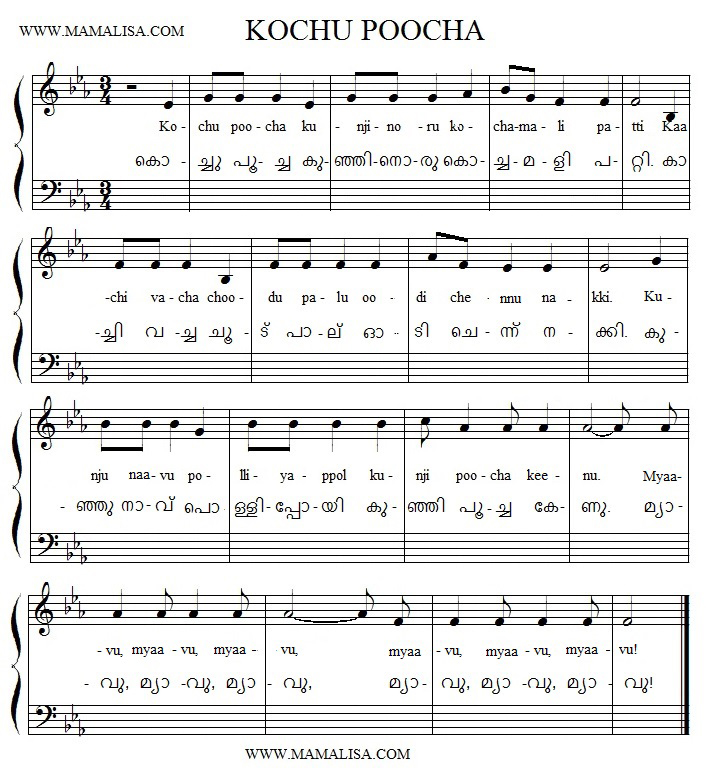 Thanks and Acknowledgements
Many thanks to Dhanya Brijesh for contributing and translating this song. Thanks to Binu Paul for the text in the Malayalam alphabet. Thanks to Monique Palomares for the photo!
Nandi!