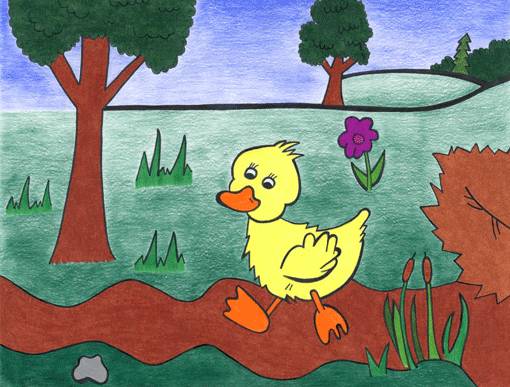 Kulla kulla vaathu
Short, Short Duck
Nursery Rhyme
Nursery Rhyme
Kulla kulla vaathu
kuvaa kuvaa* vaathu
mella udalai saaithu
maelum kealum paarthu
chellamaga nadakkum**
chinna mani*** vaathu
Short, short duck,
Quack, quack* duck,
Slowly slides its body left and right,
Looking up and down,
Walks like a child**,
Chinna Manny*** duck.
Notes
*Krithika said, "Actually a duck sounds like "back back", but in Tamil it is written as 'kuva kuva'."
**Krithika said, "'Chellam' is a word of showing love for kids. 'Nadathal' (nadakkum) refers to walking. The walk of the duck is compared to the walk of a child."
***"Chinna Mani" is the duck's name.

Thanks and Acknowledgements
Many thanks to Krithika Ganesh for contributing and translating this rhyme. Many thanks to Gracie Gralike for the illustration.
Rumba nandri!