St. Leonard's in Shoreditch
Notes
Here are two photos of St. Leonard's in Shoreditch High Street from Peter Elliott.

Peter wrote, "The bells of Shoreditch still exist; I was in Shoreditch last week and the church is St. Leonard's in Shoreditch High Street. It has a special letter box on the railings especially for 'Oranges and Lemons letters' whoever writes them.

The first photo below is of the metal railings with the Oranges and Lemons letter box."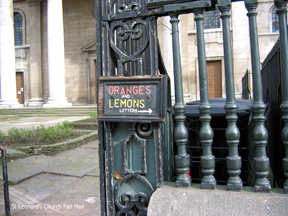 The photo below is a view from across the road showing the steeple of St. Leonard's and the railings next to the 'Clerk's House' which has the strange number 18½.




CLICK HERE to see an old drawing of the church from another standpoint.

Return to Oranges and Lemons Song Page
Thanks and Acknowledgements
Many thanks to Peter Elliott for sending me these photos - Mama Lisa
Thanks so much!