The Wicked Zebra – A Poem with Recording
November 12th, 2012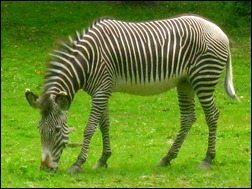 Here's a cool poem called The Wicked Zebra by Frank Roe Batchelder with an mp3 recording…
MP3 Recording of The Wicked Zebra
The Wicked Zebra
The zebra always seems malicious,
He kicks and bites 'most all the time;
I fear that he's not only vicious,
But guilty of some dreadful crime.
The mere suggestion makes me falter
In writing of this wicked brute;
Although he has escaped the halter,
He wears for life a convict's suit.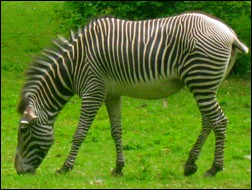 Photos:  Taken by Mama Lisa at the Bronx Zoo in New York
This article was posted on Monday, November 12th, 2012 at 5:27 pm and is filed under Canada, Countries & Cultures, England, English, Languages, MP3's of Poems, Photos, Photos of Animals, Poems, Poems about Animals, Poetry, Recordings, Recordings of Poems, USA, Zoo Photos. You can follow any responses to this entry through the RSS 2.0 feed. You can skip to the end and leave a response. Pinging is currently not allowed.
Leave a Reply