The Pigeon House Song
June 29th, 2011
The Pigeon House is a song many people grew up singing.  I've been asked about it several times and now know that different versions exist.  Here's one of them with a midi and score:
The Pigeon House

We open the pigeon House again,
And set all the happy flutt'rers free;
They fly o'er the fields and grassy plain.
Delighter with joyous liberty;
And when they return from their merry flight,
We shut up the house and bid 'em good night.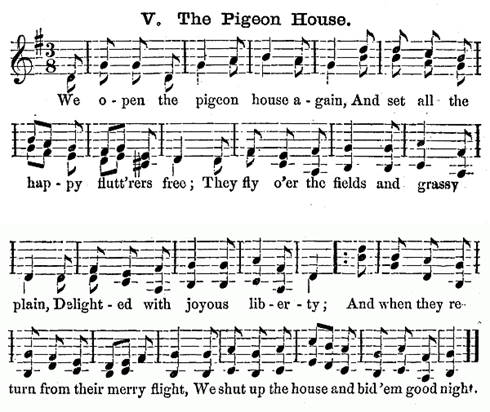 Feel free to share your version in the comments below.  We also welcome recordings.
Enjoy!
Mama Lisa
This article was posted on Wednesday, June 29th, 2011 at 4:43 pm and is filed under American Kids Songs, Children's Songs, Countries & Cultures, England, English, English Children's Songs, Languages, The Pigeon House, USA. You can follow any responses to this entry through the RSS 2.0 feed. You can skip to the end and leave a response. Pinging is currently not allowed.
Leave a Reply