The Kankurang and The Gambian Male Circumcision Tradition
May 26th, 2010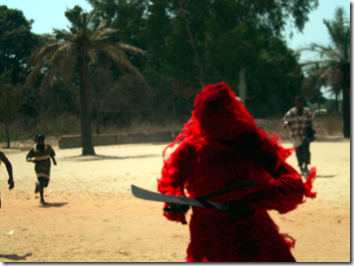 Del Dallimore shared these photos from Gambia Africa of the Kankurang.  She wrote, "He is the circumciser, and snatches certain kids away from their homes. No wonder the kids are terrified!
The children and often the parents try and avoid the Kankurang – so a male child can be circumcised at anything from a few months, to whenever the Kankurang catches him."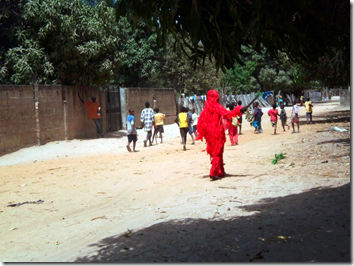 Del wrote, "The kids have every reason to be scared of him. I couldn't even run when he brandished his cutlass in front of me [Del had hurt her leg], but I would have if I could have." 
Del wrote, "So many conflicting accounts of him. He is there to frighten the witches that follow the children newly circumcised some say."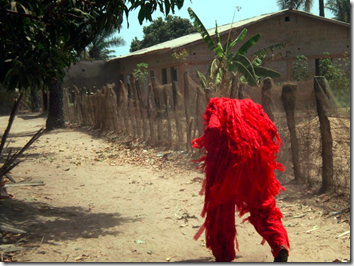 I read there was a connection between the Kankurang and the Masquerade, so I asked Del about it.  Here's what she said, "Not sure what you mean about the masquerade. He's dressed up, but as far as everyone is concerned, he IS the Kankurang. Each ethnic group circumcise their children separately, so the Jola, Mandinka, Fula, etc. are done at different times. Afterwards, when the children return home, there is a big celebration, from early morning, but I don't think it's like a mardi gras."
Del wrote, "Although the Kankurang does collect the children, they are often circumcised in clinics. Otherwise, here in Brufut, they spend a week at the beachside, after the ceremony, bathing in the sea to heal the wound."
*****
Delyth, who recorded the videotape, wrote: "The Gambia, West Africa, is one of Africa's smallest countries. It has a tropical climate. It is one of the poorest countries in the world, but is fairly stable… I started the YouTube channel because I am very interested in Gambian traditions, and wanted to preserve as much as I could…" Check out Del's YouTube Channel and please consider donating to her school.
Go to Mama Lisa's World's Gambia pages for songs from Gambia, featuring Del's videos.
UPDATE: Del sent us more information about the Gambian circumcision tradition involving the Kankurang which you can read in a later blog post.
Leave a Reply