Cotton Candy Around the World
May 26th, 2010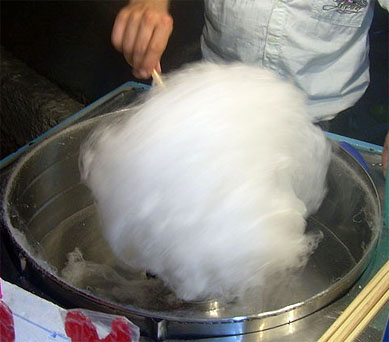 I was talking with Monique from France today and she mentioned that cotton candy in French is called la barbe à papa – Daddy's beard. I love this image!
In England, it's called Candyfloss.
In Australia, it's fairy floss (how cool is that?!)
In Spain, it's algodón de azúcar, meaning sugared cotton.
In Italy, zucchero filato, meaning spun sugar which is really what it is.
Thanks to Monique of the French and Spanish version of Mama Lisa's World for sharing this with us!
Please share your phrase for cotton candy in the comments below with an English translation.
Thanks!
Mama Lisa
This article was posted on Wednesday, May 26th, 2010 at 9:10 pm and is filed under Cotton Candy Around the World, Countries & Cultures, English, French, Italian, Italy, Languages, Mama Lisa, Spain, Spanish, United Kingdom, USA, Words & Phrases. You can follow any responses to this entry through the RSS 2.0 feed. You can skip to the end and leave a response. Pinging is currently not allowed.
15 Responses to "Cotton Candy Around the World"
Leave a Reply