The Kankurang and Male Circumcision Customs in The Gambia
May 27th, 2010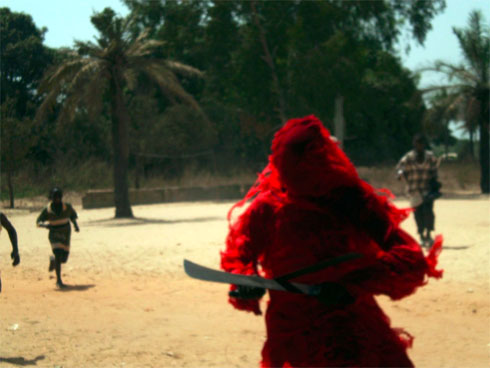 Recently, Del in Gambia sent us photos of the Kankurang, a central figure in male circumcision traditions in Gambia. I just received this note from Del:
I did a bit of research and came up with this:

Kankurang

The Kankurang is part of the Gambian male circumcision ceremony. Most boys are circumcised by the age of 15. It is believed that newly circumcised children are very susceptible to becoming ill directly after the circumcision, due to the influence of bad spirits and witches. It is the Kankurang's job to keep all these witches and evil influences away during this time.

During the day time, the Kankurang is merely a man dressed up, and he chases and teases the children with his cutlass. During the night however, he has real powers, and is able to fly to the tops of trees, make a double of himself, even make himself invisible, as he bravely attacks and wards off the witches with his knives. No-one wants to meet a Kankurang after dark, in case the Kankurang sees evil spirits in him.

If, after all his efforts, a child still falls ill, an even stronger Kankurang called Fambondi is evoked by an offering concoted of 7 peppers, 7 stones, and 7 cola nuts. These Fambondi are very very powerful.

In the past, children would spend up to three months in the bush during their circumcision ceremony, returning to the beach side to bathe the wound once a week. Nowadays the average time spent away from the family is about a week. Many boys are now circumcised in the clinics. Nevertheless, they are still required to spend time in the bush with the other children, as this is where their education into the behaviour appropriate for their group is taught. The Kankurang for each ethnic group and area all have slightly different colours and costume, with some groups, like the Fula, not having a Kankurang tradtion at all.
Del Dallimore is a teacher in The Gambia, West Africa. She started a YouTube channel to help preserve The Gambia's traditions and music." Check out Del's YouTube Channel and please consider donating to her school.
Go to Mama Lisa's World's Gambian pages for songs from The Gambia, featuring Del's videos.
Thanks for sharing this with us Del!
Mama Lisa
One Response to "The Kankurang and Male Circumcision Customs in The Gambia"
The Kankurang and the Gambian Male Circumcision Ceremony | Mama Lisa's World Blog Says:
May 27th, 2010 at 11:03 am

[…] Del sent us more information about the Gambian circumcision tradition involving the Kankurang which you can read in a later blog post. Share on Facebook and other […]
Leave a Reply