Songs with Many Versions around the World
January 4th, 2018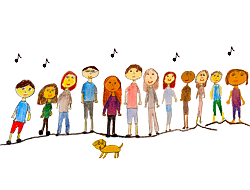 Mama Lisa's World is 20 years old this year! Over the many years, we've been collecting songs with many versions around the world usually in different languages. Some examples are "Twinkle, Twinkle, Little Star", "Happy Birthday to You" and "Frère Jacques".
Over the past couple of months, we've been working on making these songs available to you as collections! Most of these are online here! We're still working on some and they'll be available at the same link soon. Check it out and send us any versions you know that we don't already have.
Enjoy!
Mama Lisa
This article was posted on Thursday, January 4th, 2018 at 8:19 pm and is filed under Children's Songs, Countries & Cultures, Kids Songs around the World, Language Learning, Languages, Lullabies, Lullabies from Around the World, Mama Lisa, Songs Around the World, Songs by Theme, Teaching, Teaching about World Cultures, Teaching about World Music, USA, World Culture. You can follow any responses to this entry through the RSS 2.0 feed. You can skip to the end and leave a response. Pinging is currently not allowed.
22 Responses to "Songs with Many Versions around the World"
Leave a Reply