A Poem Called "Life" with a Recording
January 2nd, 2018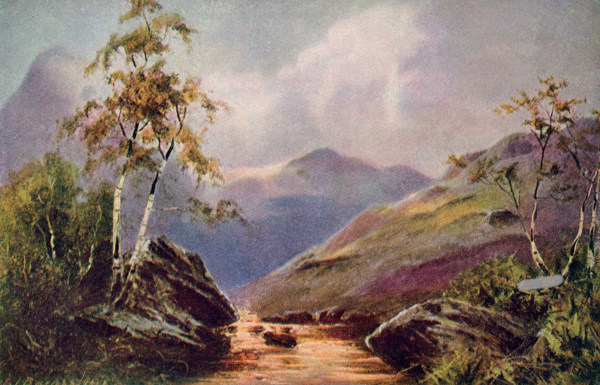 This poem called "Life" seemed somehow fitting for the beginning of the New Year, yet it's nice for any time of year. It was written by Griffith Alexander for "The Philadelphia Evening Public Ledger." Below you can listen to an mp3 recording of the poem and read along with the text…
MP3 Recording of the poem Life
LIFE
By Griffith Alexander
"What is life?" we ask. "Just one darned thing after another," the cynic replies. Yes, a multiplicity of forces and interests, and each of them, even the disagreeable, may be of real help to us. It's good for a dog, says a shrewd philosopher, to be pestered with fleas; it keeps him from thinking too much about being a dog.
What's life? A story or a song;
A race on any track;
A gay adventure, short or long,
A puzzling nut to crack;
A grinding task; a pleasant stroll;
A climb; a slide down hill;
A constant striving for a goal;
A cake; a bitter pill;
A pit where fortune flouts or stings;
A playground full of fun;—
With many any of these things;
With others all in one.
What's life? To love the things we see;
The hills that touch the skies;
The smiling sea; the laughing lea;
The light in woman's eyes;
To work and love the work we do;
To play a game that's square;
To grin a bit when feeling blue;
With friends our joys to share;
To smile, though games be lost or won;
To earn our daily bread;—
And when at last the day is done
To tumble into bed.
Read by M. Lopez
This article was posted on Tuesday, January 2nd, 2018 at 9:13 pm and is filed under Countries & Cultures, English, Languages, Mama Lisa, MP3's, MP3's of Poems, New Years Poems, Poems about Life, Poetry, Recordings, Recordings of Poems, USA. You can follow any responses to this entry through the RSS 2.0 feed. You can skip to the end and leave a response. Pinging is currently not allowed.
One Response to "A Poem Called "Life" with a Recording"
Diane Yannucci Says:
December 10th, 2020 at 4:24 pm

I liked your poem about life!!!! I~m not playing cards or Mah Jangg until next year.
Gwen is going to pick me way before Xmas. If you want to get together before Xmas!!!!!!!!

CALL ME!!!!!!!! MERRY XMAS! HAPPY HANAKA!!! HAPPY NEW YEAR!!!!!

Your Loving Mother LOVE & KISSES!!!
Leave a Reply