Sayings about Days of the Week
November 27th, 2015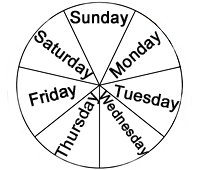 Monique wrote from France about sayings related to days of the week.  Here's her email:
Are there any idioms in English about the days of the week?

In French, when we put a button in the wrong buttonhole, we call that "Boutonner lundi avec mardi." (Buttoning Monday with Tuesday.) 

We also have the proverb, "Qui rit vendredi, dimanche pleurera." (Whoever laughs on Friday, will cry on Sunday.) It's usually said when someone plays a nasty trick on someone else and enjoys it.  It sounds like a moral warning.

We also have "La semaine des quatre jeudis" (The week of 4 Thursdays), which means "never". 

There's also "être au milieu comme le mercredi" (To be in the middle like Wednesday), which means to stand in the middle getting in the way of other people.
The only saying I can think of in English that's commonly used is TGIF – Thank God it's Friday.  We also have a nickname for Wednesday, which is "hump day". There's the implication that it's something difficult to get past, but that after hump day the week gets easier.
If you know of any idioms about the days of the week in your language, please share them below.
Mama Lisa
Monique Palomares works with me on the French and Spanish versions of Mama Lisa's World.
This article was posted on Friday, November 27th, 2015 at 8:19 pm and is filed under Australia, Countries & Cultures, England, English, English Proverbs, France, French, French Proverbs, Languages, Proverbs, Sayings, Sayings about Days of the Week, USA. You can follow any responses to this entry through the RSS 2.0 feed. You can skip to the end and leave a response. Pinging is currently not allowed.
One Response to "Sayings about Days of the Week"
Nyangi Says:
October 14th, 2016 at 12:02 pm

I have Liberian friends whom I've heard saying, "Your Saturday is longer than your Sunday", meaning your slip is showing under your skirt or dress.
Leave a Reply