Food at the First Thanksgiving
November 23rd, 2015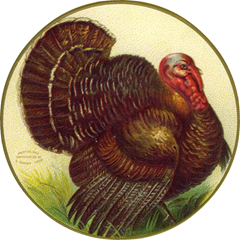 The first Thanksgiving in Plymouth Massachusetts in 1621 was a harvest festival.  It was different from the holiday we celebrate today. For one thing, it lasted three days – imagine that!
Their menu was quite different from ours too.  The one thing we're sure was on the menu was venison.  It's mentioned in a letter about the feast written in December 1621 by Edward Winslow, one of the colonial leaders. He wrote, "…many of the Indians coming amongst us… with some ninety men, whom for three days we entertained and feasted, and they went out and killed five deer, which they brought to the plantation and bestowed on our governor, and upon the captain, and others."  The Indians actually outnumbered the colonists. There were only 53 Pilgrims while there were 91 American Indians.
In that same letter, Winslow mentions that "our harvest being gotten in, our governor sent four men on fowling, that so we might after a more special manner rejoice together, after we had gathered the fruit of our labors; they four in one day killed as much fowl, as… served the company almost a week".  He doesn't mention what type of birds they hunted, but we know that geese and duck were easy to find in the area. So most likely, they were on the menu.
You'll be happy to know there probably was turkey at the feast!  William Bradford, governor of the Plymouth colony at that time, wrote years later, "…besides waterfowl there was great store of wild turkeys."
It's very possible there was shellfish too. Edward Winslow wrote, "…all the winter we have mussels… oysters we have none near, but we can have them brought by the Indians…"
It seems likely there was cornbread at the First Thanksgiving. Winslow wrote, "We set the last spring some twenty acres of Indian corn… Our corn did prove well, and God be praised, we had a good increase of Indian corn…" Indian corn wasn't eaten fresh. It was ground down to make cornmeal for bread.
According to National Geographic, other food probably served at the 1st Thanksgiving was squash, pumpkin and stew.  They most likely had beer to drink, given that they had had a good harvest of barley that year.
So raise your mug to a Happy Thanksgiving!
Mama Lisa
Leave a Reply