Recipe for Savory Matzo Brei
April 15th, 2009
Matzo brei means fried matzo in Yiddish.  The traditional way to make it is with a lot of matzo – you generally use equal eggs to matzo.  Jewish people eat it around Passover. Savory Matzo Brei is salty.  There's a different recipe for Sweet Matzo Brei.
You can put whatever you like into savory matzo brei.  Here are some suggestions: fry up any of the following first: chopped onions, green or red peppers, mushrooms, or other vegetables that you might put into a normal omelet.  You can also add cheese and/or herbs to savory matzo brei.  If you're using cheese, I'd recommend Swiss or cheddar cheese – but use whatever you and your family like.
Here's how you make Savory Matzo Brei:
Recipe for Savory Matzo Brei
3 Eggs
3 Matzo
1 Tablespoon Milk
Salt and Pepper to Taste
1) Fry up any vegetables you want to use in a little oil or butter, until lightly brown and soft.  Set aside.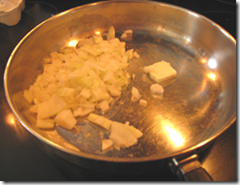 1) Soak matzo in water for a minute or two to soften (no longer than that).  Take the matzo out of the water.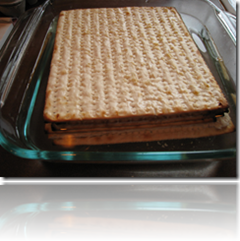 2) Break matzo into small pieces with your hands.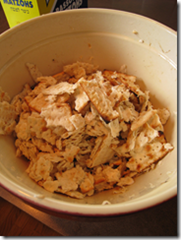 3) In a separate bowl, beat the eggs with the milk (like you would for scrambled eggs).  Add salt and pepper and stir.  Then stir the egg mixture in with the matzos.
4) Put pan with vegetables back on medium heat heat.  Then add the egg mixture.  Break up like you would scrambled eggs while frying.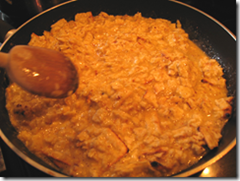 5) Add small cubes of cheese if you're using cheese.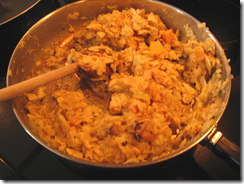 When it's firm (not liquidy), it's ready to eat.
Bon appetit!
Mama Lisa
PS If you'd like to try something different, check out my recipe for Matzo Omelet.
This article was posted on Wednesday, April 15th, 2009 at 6:18 pm and is filed under Breakfast and Brunch, Countries & Cultures, Holidays Around the World, Israel, Languages, Main Course, Omelets, Passover, Recipes of the World, Savory Matzo Brei, USA, Yiddish. You can follow any responses to this entry through the RSS 2.0 feed. You can skip to the end and leave a response. Pinging is currently not allowed.
3 Responses to "Recipe for Savory Matzo Brei"
shimke Says:
July 5th, 2011 at 8:28 pm

Acc to my mother's recipe, you break up the Matsoh before soaking it, while it is still brittle. It works best if you take 3-4 pieces of matso in one hand, and then lightly crush in your other hand, while holding it over a bowl. As for vegetables, I have never heard of putting vegetables in it, except for onions. My mother made it without any vegetables at all. Secondly, in her version, it is not scrambled, but cooked in one piece like a thick omelet or pancake (maybe 3/4 inch thick?), and flipped once so it browns on both sides. It can be served with maple syrop, brown sugar, butter or honey. It might also be good, like latkes, with either apple sauce or sour cream, altho we did not eat it that way. (Altho I love matse-bray, my favorite passover bkfast food was Khremslekh, matso-meal pancakes.)

Lisa Yannucci Says:
July 5th, 2011 at 8:35 pm

Thanks for sharing your Mom's recipe! How do you make Khremslekh? I'd like to try it.

shimke Says:
July 5th, 2011 at 11:57 pm

I do not have a recipe myself. However, I have made it. I used a recipe printed on the box of Matse mel (Matzo meal). All I recall is that it included egg whites. Do try it.
Leave a Reply