Recipe for Homemade Tuna Dog Treats
November 7th, 2013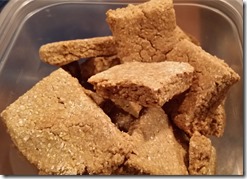 Today is my dog Mango's 4th birthday! 
When Mango turned one, and my daughter was much younger, we had a big dog birthday party.  We invited other kids with their dogs. As a special treat I made homemade Tuna Treats for all the dogs. 
This year I made Mango these treats once again.  Boy, was she happy!
Below is the recipe.  It's easy to make.  Only 3 ingredients are needed.  You can change the flour.  I used a combination of oat flour (made from oatmeal) and corn meal.  Some people use all-purpose flour.  The important point is that you have a fairly smooth (i.e. not sticky) dough to roll out.   Below are the proportions.  You can double or triple the recipe or make even more and freeze some.
Recipe for Homemade Tuna Dog Treats
1 1/2 cups Oatmeal (or white flour or corn meal or a combination of flours)
1 (5 oz.) Can Tuna in water (you can use tuna in oil if you prefer)
1 Egg

Preheat oven to 350F.

1. Put oatmeal in a food processor and blend until it has a flour-like consistency.  (If you're using white flour you can skip this step and just add it in step 2.)

2. Add the tuna and eggs and mix until fairly smooth.

3. Take dough out of the food processor. You can add more flour if needed to get a smooth consistency or add a little water if it's too dry.

Roll out the dough on a floured surface.

4.  Use cookie cutters to make shapes or simply cut the dough into squares.

5. Spray a cookie sheet with cooking spray.  Place treats on the cookie sheet with a little room in between them.

6. Cook for about 20 – 25 minutes until golden brown.  Turn them over with a spatula at least once during the cooking process.

7.  Feed treat to dog.
Enjoy! -Mama Lisa
5 Responses to "Recipe for Homemade Tuna Dog Treats"
Leave a Reply