It's a Big Dog Party!
November 15th, 2010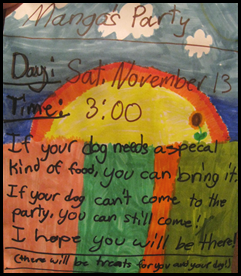 We read Go Dog Go by PD Eastman to our kids for years when they were younger.  They loved it!  The climax of the book was a big dog party.  By chance, we threw a party for our 1 year old pup this past weekend.  Who would've thought after all those years reading the book that we would host our own dog party?  My daughter's friends came with their dogs.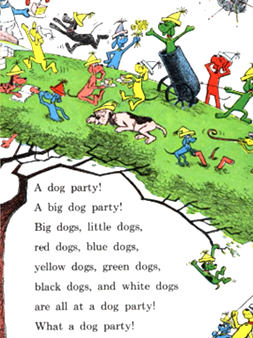 We don't have a fenced in yard yet, so we had our party at a dog park for smaller dogs.  All of the canine attendees were small to medium sized. 
My dog Mango loves tuna, so I made homemade tuna treats.  They were a bit smelly for humans, but a hit with the canines!  We gave each kid a goody bag with treats in it to feed the dogs.  Both the kids and the dogs loved that.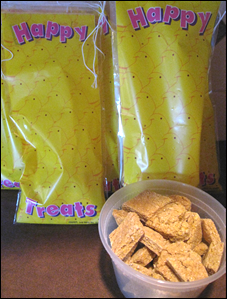 For the human guests, we brought homemade sugar cookies in the shape of dog houses, bones and dogs.  We dipped the cookies in chocolate.  We also brought Yoo-hoo and Iced Tea in juice boxes.
(Note: If you don't have time to get dog themed cookie cutters, there's a dog bone template you can print out from the PBS Clifford pages. )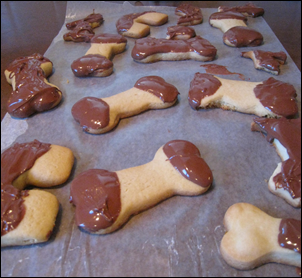 This was an easy party to host.  All we did was arrange a time and date and then bring the snacks and treats.  The entertainment was built-in.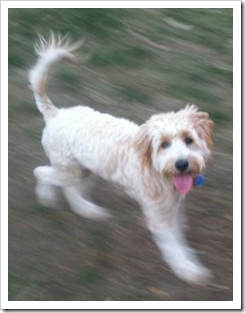 The dogs ran around together and sniffed everything.  The kids followed them.  Fun was had by all! 
Mama Lisa
Note: The kids who come don't all have to have dogs.  One of my daughter's friends couldn't bring her dog, so she played with the other dogs.  Another friend brought her grandma's dog.  Non-dog owners can join in the fun too!
Thanks to Calvin for the photo of Mango!
This article was posted on Monday, November 15th, 2010 at 2:57 pm and is filed under Birthdays, Desserts, Dog Birthday Parties, Dogs, Holidays Around the World, Parenting, Pets, Recipes of the World. You can follow any responses to this entry through the RSS 2.0 feed. You can leave a response, or trackback from your own site.
2 Responses to "It's a Big Dog Party!"
Recipe for Homemade Tuna Dog Treats Says:
November 30th, 2015 at 3:23 pm

[…] Mango turned one, and my daughter was much younger, we had a big dog birthday party.  We invited other kids with their dogs. As a special treat I made homemade Tuna Treats for […]

Debbie Says:
January 20th, 2021 at 10:33 pm

Can you please tell me where I can get this about "It's a big dog party" published I think in 1900's
Thank you
Email@: Debrnccm@gmail.com
Leave a Reply