Les Chats – The Cats – A Poem by Baudelaire
November 16th, 2010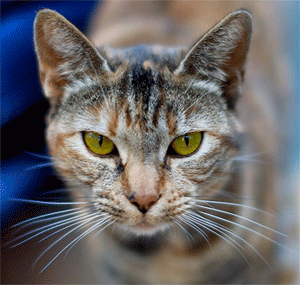 There are many cat lovers who are looking to read everything written under the sun about cats! These enthusiasts inspired me to translate this poem. It's called Les Chats (Cats in English) by the French poet Charles Baudelaire (1821 – 1867). It's from his collection of poems called Les Fleurs du Mal.
Below, you can listen to the poem being recited in French while reading the original text. Both are followed by my English translation.
Les chats recited by Caroline Sophie

Les chats

Les amoureux fervents et les savants austères
Aiment également, dans leur mûre saison,
Les chats puissants et doux, orgueil de la maison,
Qui comme eux sont frileux et comme eux sédentaires.

Amis de la science et de la volupté
Ils cherchent le silence et l'horreur des ténèbres ;
L'Erèbe les eût pris pour ses coursiers funèbres,
S'ils pouvaient au servage incliner leur fierté.

Ils prennent en songeant les nobles attitudes
Des grands sphinx allongés au fond des solitudes,
Qui semblent s'endormir dans un rêve sans fin ;

Leurs reins féconds sont pleins d'étincelles magiques,
Et des parcelles d'or, ainsi qu'un sable fin,
Etoilent vaguement leurs prunelles mystiques.

Cats

Passionate lovers and serious scholars
Both, in their mature years, adore cats,
Potent and gentle, pride of the house,
Like them they are cold, and like them sedentary.

Friends of learning and of sensuality,
They seek out the silence and horror of darkness;
Erebus* would take them as his somber messengers
If they could bend their pride in servitude.

While dreaming, they assume the noble pose
Of the great sphinxes lounging in desolation,
Appearing to be asleep in an eternal dream.

Their fertile loins are full of magical sparks
And of particles of gold like fine sand,
Faintly studding their mystic eyes.

*In Greek mythology, Erebus was the son of the God Chaos and the earthly personification of darkness and shadows.
Translation by Lisa Yannucci (Edited by Monique Palomares)
Photo: Wikipedia
This article was posted on Tuesday, November 16th, 2010 at 7:23 pm and is filed under Charles Baudelaire, Countries & Cultures, France, French, French Poems, Languages, Les chats - The Cats, Mama Lisa, MP3 Recordings, Poems, Poetry, Poets, Recordings, Recordings of Poems. You can follow any responses to this entry through the RSS 2.0 feed. You can skip to the end and leave a response. Pinging is currently not allowed.
One Response to "Les Chats – The Cats – A Poem by Baudelaire"
Paul Whitehead Says:
August 12th, 2014 at 12:46 pm

Thank you very much for your translation of "Les Chats".

I read it in an article by Prof Jon Elster "Hard & Soft Obscurantism in the Humanities & Social Sciences" in "Diogenes" 58(1-2) 159-170 (2012). Unfortunately, my French is not up to translating it so I was very glad to find yours.

All the best,

Paul Whitehead
Leave a Reply