Gorgonzola Stuffed Gnocchi in Sage Butter
November 6th, 2013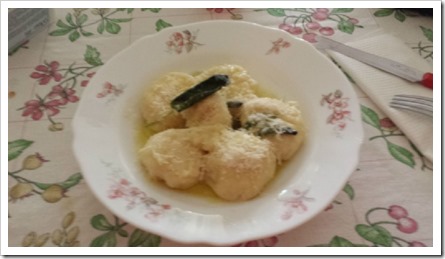 This delicious recipe for Gorgonzola Stuffed Gnocchi was sent from the region of Veneto in the northern Italy by Emanuela Marsura and Luciana Salvador.
Recipe for Gorgonzola Stuffed Gnocchi
Ingredients
(Serves 2)

4 Potatoes
1 Egg
Flour (1/2 cup+)
Parmesan Cheese
Salt

Gorgonzola

Serve with:

Melted Butter & Sage or
Italian Sausage

1.  Boil the potatoes until soft. Then peel and mash them.

2.  Mix the potatoes with one egg, a little salt and parmesan cheese.  Put in enough flour to make it smooth (not sticky). You should be able to work with it with your hands.

3.  Make dumplings about the size of a small clementine.

4.  Put a small teaspoonful of gorgonzola inside the ball of dough, closing the dough around the cheese.

5.  Dip the ball in a little flour to make it smooth (not sticky).

6.  Cook the gnocchi in salted water – only a few at a time.  When the gnocchi rise to the surface of the water, remove them with a slotted spoon and drain.

7.  On the side, melt butter in a pan and cook with fresh sage on low heat.  (If you prefer instead you can fry up sausage to serve with the gnocchi.  See note below.*)

8.  Add the gnocchi to the pan – but don't fry them. Turn the gnocchi over to coat them.

9.  Serve on a warm plate with parmesan cheese.

*Note by Emanuela about Sausage Variation:  The original dish is not made with butter and sage, but with Italian sausage crumbled and cooked slowly in a pan so that it cooks in its fat. Let it brown little by little. Once the dumplings are cooked, place them in the pan so that they take on the sausage flavor. Serve the dumplings with a bit of sausage on top. They are out of this world!

Buon appetito!
Many thanks to Emanuela for sharing this recipe with us.  Thanks also to Luciana Salvador (she's making the gnocchi in the photos).
Grazie!
-Mama Lisa
Note from Emanuela: "Gnocchi are from Veneto. But the original recipe for this type is from the region of Friuli.  It's made with Talsit cheese and Petina salami. Since we didn't have these two ingredients, we used Gorgonzola cheese and a good sausage of the Veneto.
This article was posted on Wednesday, November 6th, 2013 at 9:25 am and is filed under Countries & Cultures, Cuisine, Gorgonzola Stuffed Gnocchi in Sage Butter, Italian, Italian American, Italian Cuisine, Italy, Languages, Main Course, Recipes of the World, USA. You can follow any responses to this entry through the RSS 2.0 feed. You can skip to the end and leave a response. Pinging is currently not allowed.
Leave a Reply