Names for Ladybugs Around the World
May 24th, 2011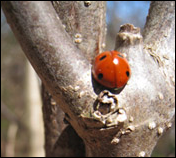 What are the names for ladybugs in your language?
Ladybugs belong to the Coccinellidae family, from a Latin word meaning "scarlet".  But they also have many other names: in English, they've been called ladybug, ladybird, lady beetle, lady clock, lady cow and lady fly. 
The name ladybird was originally "Our Lady's bird" in England.  This name referred to the fact that the ladybug is red and so was the Virgin Mary's dress when pictured in the Middle Ages. Also, the most common ladybug has seven spots and there are the Seven Joys and the Seven Sorrows of Mary.  In Spanish, ladybugs are called mariquita, meaning little Mary.  In German "Marienkäfer" – Mary's bug. All those names are related to the Virgin Mary.
Ladybugs have other names related to cows or hens.  We were working lately on a Swedish rhyme that goes…
Guld-höna, guld-ko!
Flyg öster, flyg vester,
Dit du flyger der bor din älskade!

Gold-hen, gold-cow!
Fly east, fly west,
You'll fly to where your sweetheart lives.
"Guld-höna" and "guld-ko" is literally "gold-hen" and "gold-cow" in Swedish.  In English, the creature is sometimes referred to as "lady cow".  In the Occitan language of the troubadours, there's "galineta" (little hen) and "buòu de Nòstre Sénher" (Our Lord's ox).  In French, there's "poulette de la Madone" (Our Lady's little hen) and "vache à Dieu" (God's cow).
Many centuries ago, people seem to have related the seven spots on ladybugs to the seven brightest stars of the Pleiades or Seven Sisters in the constellation of Taurus (the Bull). The Pleiades have different vernacular names related to hens.  In French there's the term "la Poussinière" (the Chicks House).  In Italian, they'd say "le Gallinelle" (the Little Hens) or "la Chioccietta" (the Little Broody Hen).  That's the relation between ladybugs and hens.
Whatever name they get, they seem to bring luck. So what are the names for the ladybug in your language and are there any rhymes about this sweet little creature in your country?  Please let us know in the comments below!
Written by Monique Palomares, who works with Mama Lisa on the French and Spanish versions of Mama Lisa's World.
This article was posted on Tuesday, May 24th, 2011 at 10:59 am and is filed under Countries & Cultures, England, English, English Nursery Rhymes, French, German, Ladybird, Ladybug Rhymes, Languages, Names for Ladybugs, Nursery Rhymes, Occitan, Spanish, Swedish, Swedish Nursery Rhymes. You can follow any responses to this entry through the RSS 2.0 feed. You can skip to the end and leave a response. Pinging is currently not allowed.
34 Responses to "Names for Ladybugs Around the World"
Leave a Reply