Merry Autumn – A Poem with an MP3 Recording
September 28th, 2015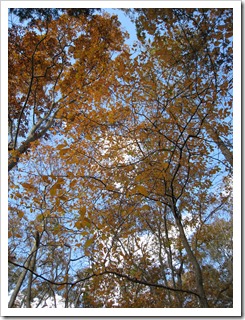 Merry Autumn is a poem written by American writer Paul Laurence Dunbar (1872 – 1906).  His parents were slaves in Kentucky before the Civil War. He grew up in Ohio and was born in Dayton in 1872.
The poem Merry Autumn talks about how silly it is to tie the symbolism of death with autumn.  The colors of decay are black and grey… while fall colors are majestical… purple, yellow and crimson.
This is why I love this poem. It celebrates the beauty of the season!
Merry Autumn

It's all a farce, -these tales they tell
About the breezes sighing,
And moans astir o'er field and dell,
Because the year is dying.

Such principles are most absurd,-
I care not who first taught 'em;
There's nothing known to beast or bird
To make a solemn autumn.

In solemn times, when grief holds sway
With countenance distressing,
You'll note the more of black and gray
Will then be used in dressing.

Now purple tints are all around;
The sky is blue and mellow;
And e'en the grasses turn the ground
From modest green to yellow.

The seed burrs all with laughter crack
On featherweed and jimson;
And leaves that should be dressed in black
Are all decked out in crimson.

A butterfly goes winging by;
A singing bird comes after;
And Nature, all from earth to sky,
Is bubbling o'er with laughter.

The ripples wimple on the rills,
Like sparkling little lasses;
The sunlight runs along the hills,
And laughs among the grasses.

The earth is just so full of fun
It really can't contain it;
And streams of mirth so freely run
The heavens seem to rain it.

Don't talk to me of solemn days
In autumn's time of splendor,
Because the sun shows fewer rays,
And these grow slant and slender.

Why, it's the climax of the year,-
The highest time of living!-
Till naturally its bursting cheer
Just melts into thanksgiving.

Read by Roseanne Schmidt
Enjoy the season!
-Mama Lisa
This article was posted on Monday, September 28th, 2015 at 1:34 pm and is filed under Autumn, Countries & Cultures, England, English, Fall, Holidays Around the World, Languages, Paul Laurence Dunbar, Poems about the Fall, Poetry, Poetry about the Seasons, Poetry about the Weather, Poets, Seasonal, USA. You can follow any responses to this entry through the RSS 2.0 feed. You can skip to the end and leave a response. Pinging is currently not allowed.
Leave a Reply