Le mariage en France
November 13th, 2019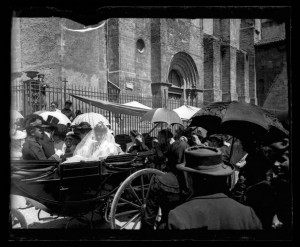 Par Monique Palomares
Le mariage en France
Avant le mariage:
Souvent, avant le mariage, le marié va avec ses copains faire la fête pour enterrer sa vie de garçon. Pour les filles, c'est une pratique plus récente (~1970).
Seul le mariage civil est reconnu par l'État et doit être célébré à la mairie avant le mariage religieux s'il y en a un, et ce depuis 1904 (loi de la séparation des églises et de l'État). De nos jours, il est en général célébré à la mairie de résidence des futurs époux ou à celle où au moins l'un deux a des attaches durables (en général, les parents). De façon traditionnelle, il était (et souvent est encore) célébré dans la commune d'origine de la fiancée. Les futurs époux doivent fournir à la mairie un certain nombre de documents officiels (pièce d'identité, acte de naissance avec filiation, justificatif de domicile, information sur les témoins). Une fois le dossier instruit, les bans sont publiés, c'est-à-dire qu'on affiche à la mairie où la cérémonie aura lieu et à la mairie de résidence d'au moins un des futurs époux, un avis où figurent leurs noms et prénoms, professions, domicile(s) et la date et le lieu où le mariage sera célébré et ceci au moins 10 jours avant le mariage.
Le jour J
Les futurs époux se rendent à la mairie en compagnie des témoins (obligatoires) et de leurs invités et dans la salle ouverte au public, l'officier d'état civil (maire ou adjoint au maire) leur lit les articles du code civil concernant le mariage puis il leur demande leur consentement. Quand les deux ont répondu oui, il les déclare unis par le mariage et tous, mariés, témoins et officier d'état civil signent le registre. Il remet aux nouveaux mariés un livret de famille où sont consignés les états civils avec filiation des deux époux et la date et lieux du mariage, y seront inscrits les noms, prénoms, dates et lieux de naissance de leurs enfants, la date de leur divorce si ça arrive, et la date et lieu de décès de tous. Le registre d'état civil du lieu de naissance de tous les Français contient leur date et lieu de naissance avec filiation, la date de leur(s) mariage(s) ou PACS et éventuels divorces ou dissolution du PACS, et la date de leur décès.
S'il y a un mariage religieux, il se célèbre après. Les documents à fournir sont sensiblement les mêmes que pour la mairie avec en plus le certificat de mariage civil fourni par le maire. Traditionnellement, tout le monde va de la mairie à l'église pour les catholiques, soit à pied en cortège dans les villages, soit en voiture. La mariée rentre au bras de son père, sa mère suit avec le père du marié et le marié rentre le dernier au bras de sa mère. La cérémonie peut être une simple bénédiction d'anneaux ou s'accompagner d'une messe. Dans les deux cas, les deux échangent leurs consentements et les registres paroissiaux sont signés. Les mariés sortent alors de l'église les premiers et ensemble.
Les réjouissances:
Le mariage étant célébré, la partie privée du mariage commence et donc varie selon les personnes, le milieu social et le lieu. Depuis le milieu du 19ème siècle, de façon classique, la mariée porte une robe blanche, un voile ou une couronne de fleurs, elle a un bouquet de fleurs blanches et porte parfois des gants. Autrefois, elle portait simplement sa plus belle robe. Le marié porte un costume. Bien sûr, il y a des mariages plus originaux comme ceux où tout le monde est en jeans…
Le moment photo:
Un photographe prend les mariés en photo, seuls et aussi accompagnés de leurs familles et amis : avec la famille proche puis la famille "agrandie" du marié, avec la famille proche puis la famille "agrandie" de la mariée, avec les amis etc.
L'apéritif et repas:
Souvent, le repas est réservé aux parents et amis. Alors il est organisé un apéritif ou verre de l'amitié où sont conviés des gens qui sont moins proches (collègues de travail, amis moins proches de la famille). Entre les plats du repas, souvent les gens dansent ou des animations sont proposées pour qu'ils s'amusent et fassent plus ample connaissance avec les personnes inconnues (parents et amis de l'autre famille…).
Le lendemain, il est possible que les proches soient invités à un brunch pour finir la fête plus calmement.
Avant les chaines hifi et les dj's, les invités chantaient pour entretenir la joie et la bonne humeur. Autrefois aussi, comme en général les couples ne vivaient pas ensemble avant le mariage, ils s'éclipsaient vers minuit-1heure du matin pour un lieu tenu secret afin de célébrer leur nuit de noces. Quand ils s'en apercevaient, les jeunes gens partaient alors à leur recherche. Au petit matin, on allait les réveiller et on leur portait une soupe reconstituante.
Vous pouvez lire cet article en anglais.
You can read this article in English.
This article was posted on Wednesday, November 13th, 2019 at 1:30 am and is filed under . You can follow any responses to this entry through the RSS 2.0 feed. You can leave a response, or trackback from your own site.
Leave a Reply