Hina Matsuri – Doll Festival in Japan
March 19th, 2009
Hina Matsuri or "Doll Festival", is celebrated in Japan on March 3rd every year.
Ayako Egawa wrote to me from Japan about the holiday:
"Families with daughters celebrate March 3 by displaying Hina-dolls on a stepped shelf to express the wish for their daughters' good health and growth. I posted a photo of 'Hina-dolls' (below). They are pretty."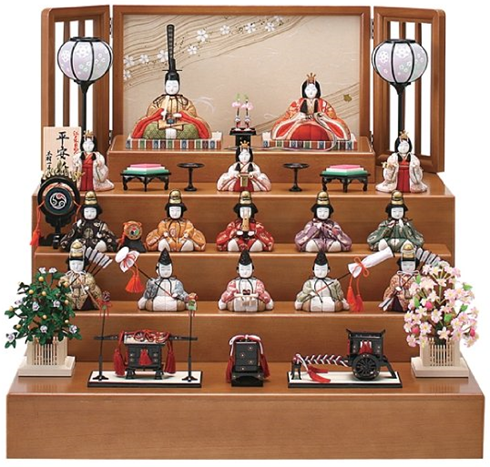 "We decorate Hina-dolls with flowers of peach and field mascard (canola) on 'Hina Matsuri'. These below are flowers of peach."  The peach blossoms are thought to repel evil.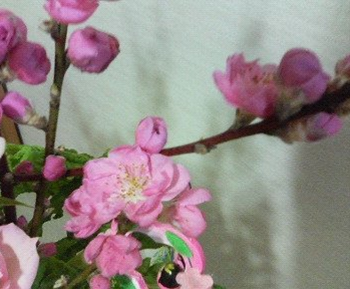 Ayako makes flower arrangements.  She wrote, "This is a 'Hinamatsuri' arrangement I made.  It has in it flowers of peach, field mustard (canola – the small yellow flower), gerbera, roses, persion buttercup (the big yellow flower) and lemon leaf.  The point of this arrangement is arrange the flowers of peach vertically going higher.  The pink tone of the flowers create an elegant mood."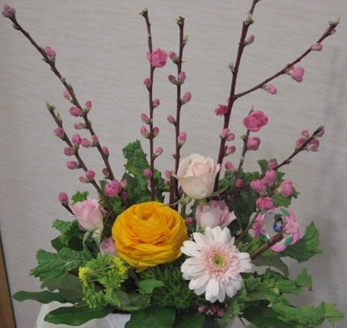 Here's the Hina Matsuri Song that's sung all over Japan for the holiday. You can hear it being sung below by Sakura and Hatsami.  The recording is followed by the transliterated lyrics, an English translation and the Japanese text…
Hina Matsuri Song

Transliterated Japanese

Akari o tsukema sho bon bori ni
O hana o agemasyo momo no hana
Gonin – bayashi no fue daiko
Kyoo wa tanoshii Hina Matsuri

Loose English Translation

Let's light the lanterns on the tiered stand
Let's put peach blossoms on the tiered stand
Five court musicians are playing flutes and drums
Today is a Happy Dolls' Festival.

Japanese Text for the Hina Matsuri Song

うれしいひなまつり
You can read more about Hina Matsuri in a previous posts I've written about it by clicking on the links below.
You can visit the Mama Lisa's World Hina Matsuri Song Page for sheet music to this song.
Many thanks Ayako Egawa for sharing her photos with us about Hinamatsuri and for commenting on them, to Sakura and Hatsami for singing the Hina Matsuri Song and to Peter Galante of Learn Japanese with JapanesePod101.com for allowing us to use this wonderful recording! The recording is from their podcast about the Hina Matsuri Festival (it's mainly in English).
Happy Hina Matsuri!
Mama Lisa
This article was posted on Thursday, March 19th, 2009 at 3:08 pm and is filed under Children's Songs, Countries & Cultures, English, Hina Matsuri - Doll Festival - Girls' Day, Hina Matsuri Song, Hina Matsuri Song, Hina Nagashi Matsuri - Floating Dolls Festival, Holiday Songs, Holidays Around the World, Japan, Japanese, Japanese Kids Songs, Languages, Mama Lisa, MP3 of Hina Matsuri Song, MP3's, Recordings of Songs, United Kingdom. You can follow any responses to this entry through the RSS 2.0 feed. You can skip to the end and leave a response. Pinging is currently not allowed.
8 Responses to "Hina Matsuri – Doll Festival in Japan"
Leave a Reply