Doll Festival in Japan – Displays, Origami and Special Food
February 27th, 2010
Ayako Egawa wrote to me from Japan about the Doll Festival.  It's called Hina Matsuri in Japanese…
Hi Lisa,
March 3rd is the Doll Festival that families with daughters express wishes for their daughters' good health and growth by displaying hina dolls as you know. 

Hina dolls are traditionally displayed on stepped shelves, but I found hina dolls lined flat.  These are smaller than usual too.

 

 

The other day my friend taught me how to make hina dolls with Origami. It is so complicated that it took me about an hour to make them, but I think they are pretty!  They are a prince and princess.

 
I offer peach flowers and Hishimochi, diamond-shaped rice cake to hina dolls. That is the Japanese tradition.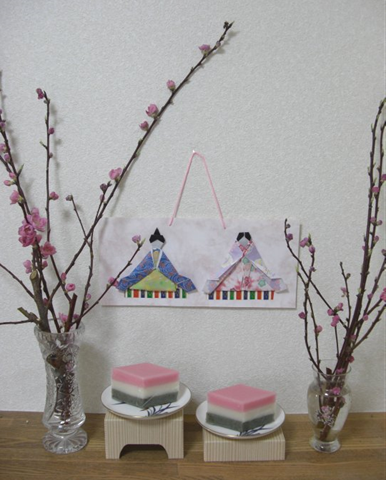 Hishimochi consists of pink, white and green rice cakes. The pink tastes sweet, the green smells good.

The pink represents peach flowers, the white means snow, and the green means Yomogi, a Japanese green of early spring. [Yomogi is Japanese Mugwort.] 

So it means: Under the snow, the green comes into bud, and over the snow, the peach flowers are in bloom. It shows an image of early spring in Japan.

Also the pink means charm, the white means purification, and the green means to drive away bad spirits.

Hope you enjoy our tradition!

Ayako
Thanks so much for sharing that with us Ayako!  I love how you made your Hina Matsuri display and the origami of the prince and princess.   What a lovely saying: "Under the snow, the green comes into bud, and over the snow, the peach flowers are in bloom."
I found a page of Recipes for Traditional Food for the Dolls Festival, including one for Hishimochi in case anyone would like to try making food for the Dolls Festival.
Here are links to all our posts about the Japanese Doll Festival if anyone would like to learn more about it…
Enjoy!  Happy Hina Matsuri!
Mama Lisa
UPDATE: Some people were looking for instructions to make Origami Hina Dolls. You can click the link for a visual guide and/or watch the YouTube below…
You can draw a face on the head at the end if you'd like (some people do this)! Good luck and enjoy!
This article was posted on Saturday, February 27th, 2010 at 4:29 pm and is filed under Countries & Cultures, Cuisine, English, Hina Matsuri - Doll Festival - Girls' Day, Hishimochi, Holidays Around the World, Japan, Japanese, Japanese Cuisine, Languages, Recipes of the World. You can follow any responses to this entry through the RSS 2.0 feed. You can skip to the end and leave a response. Pinging is currently not allowed.
3 Responses to "Doll Festival in Japan – Displays, Origami and Special Food"
Linda Austin Says:
February 27th, 2010 at 4:39 pm

These hina dolls are so cute! I just have an antique musician doll. I also love the saying Ayako provided. Thanks for the link to the foods, too. I will be presenting a Doll's Day festival at a nursing home in a couple weeks.

Lisa Says:
February 27th, 2010 at 4:51 pm

I'd love to see what your doll looks like and hear how your presentation goes!

Joy Says:
May 11th, 2010 at 10:00 am

why so special about this japanese doll?
Leave a Reply