Dance of Traditional Java called Jaranan or Jatilan (Horse Dance) with YouTube Videos
February 28th, 2010
Dedy Dowo sent me this photo of young Indonesians dressed for a traditional dance.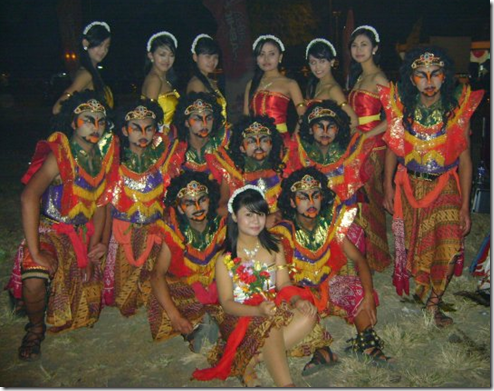 Dedy said: "They do a dance of traditional java that's called Jaranan or Jatilan (Horse dance)."
I asked if it was performed for any specific event and Dedy wrote: "Yes it is, usually in a traditional ceremony or to celebrate a birthday and big events such us weddings, independents day of my country (soon)."
He wrote: "I don't know exactly the name of the crowns, but in my language we call them bando and they're made of Jasmine.
Indonesia has a lot of traditional dances from our archipelago. We have more than a hundred dances. There are no specific songs its just dance, and there are many songs that go with these dances."
I found the YouTube video below that said: The Traditional Dance call is"Jaranan Kediri":
Here's a second video that shows people dancing to a song that Dedy said is "the dance song of jaranan. It is the famous jaranan dance in some cities in Java Island."…
Thanks for sharing this with us Dedy!
This article was posted on Sunday, February 28th, 2010 at 4:43 pm and is filed under Birthdays, Countries & Cultures, Customs and Traditions, Holidays Around the World, Independence Day, Indonesia, Jaranan, Traditional Dances, Weddings, Weddings, YouTube. You can follow any responses to this entry through the RSS 2.0 feed. You can skip to the end and leave a response. Pinging is currently not allowed.
2 Responses to "Dance of Traditional Java called Jaranan or Jatilan (Horse Dance) with YouTube Videos"
paulus Says:
May 13th, 2010 at 6:51 pm

thanks for posting this vid….i used to live in Nganjuk (close by kediri, where this vid was shot) before moving to Canada in 87, this brings me back.

Indro S Says:
September 16th, 2012 at 5:52 am

I live in Tulungagung, and I know about the jaranan here (though not complete).. There are many groups like this here.. but some of them up n down , some active some not… I think it needs a lot effort to make these groups exist… I also have a group of jaranan but now inactive…
Leave a Reply