Easter Monday in Hungary
March 19th, 2018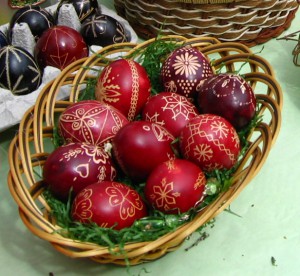 Szarka Peter wrote to us about Easter Monday in Hungary…
Soaking Girls in Water
The tradition in my area is that you could soak only the girl you danced with during the carnival (open-tide) ball(s) -Soaking the girls in water is a fertility ritual :-) ! The girls return the "favor" with Easter eggs they prepared during the days before Easter; these are eggs painted red and decorated with traditional motifs, which represent the world, the sacred order of the world etc.
There are some decorating techniques, the easiest is to "scratch" the paint from the egg. The most difficult – but the most beautiful – technique is the "írókázás", which means to draw the pattern on the egg with wax, then paint the egg. When the painting is done, you wipe the wax off the egg, its not painted under the waxed area. (Eggs in the pic are made with this waxing technique). There are some areas where other colors were also used to paint the eggs, but red is the oldest color.
Boys recite this rhyme to girls before getting them wet with water:
Zöld erdőben jártam
kék ibolyát láttam
el akart hervadni
szabad-e locsolni?
English Translation:
I was in a green forest
I saw a blue violet
It started to wither
Can I water it?
You can hear a boy recite it in the video below…
In Poland, they decorate eggs in a similar way and they celebrate Easter Monday by dousing girls with water. It's called Śmigus Dyngus and you can read about it on Mama Lisa's Blog.
Many thanks to Szarka Peter for sharing these Hungarian traditions with us!
Mama Lisa
This article was posted on Monday, March 19th, 2018 at 5:36 pm and is filed under Countries & Cultures, Easter, Easter Eggs, Easter Monday, Holidays Around the World, Hungarian, Hungary, Languages, Mama Lisa. You can follow any responses to this entry through the RSS 2.0 feed. You can skip to the end and leave a response. Pinging is currently not allowed.
Leave a Reply