Carnival Confections Made by Kids in Italy
March 2nd, 2011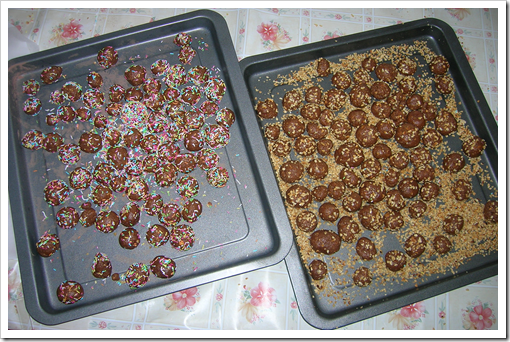 Emanuela Marsura is a teacher in a town outside of Venice, Italy.  Celebrating Carnival there is very important.  Emanuela wrote about the Carnival Confetti Balls her students make for the holiday.  They're a confection that's a cross between fudge and doughnut holes.  I posted a recipe for making it recently. 
Emanuela sent me this recipe for making larger quantities in a classroom setting.  She explained which parts the kids can do.  I adjusted it a little based on my experience with the recipe.
Ingredients
700 g Biscuits (= Two 12.35 ounce Boxes of Social Tea Biscuits)
200 grams of Softened Butter (just under 2 sticks)
2 cups Ground Hazelnuts
1 cup Unsweetened Cocoa Powder
1 1/2 cups Sugar
Cold Milk – only if the mixture turns out too dry
Sprinkles and Chopped Hazelnuts to coat the balls.
1. The children break the biscuits with their hands.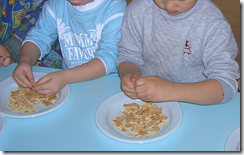 2.  Then they crush them with a rolling pin or glass bottle.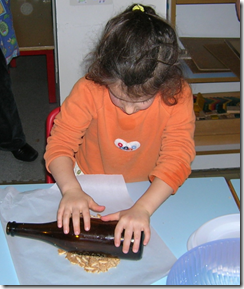 3.  The teacher mixes all of the ingredients (except the toppings).  First she mixes the butter with the biscuits.  Then she mixes in the other ingredients.  If the mixture is too dry at the end, add a tablespoon of cold milk at a time until it's smooth.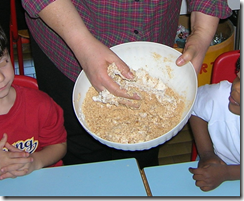 Emanuela wrote: "Some times (not this time) the kids help to pour the ingredients and mix. It depends on how many kids there are and how many teachers are with them. If there are many children, they can do little to prepare the recipe, because it takes so long. So the teacher has to work harder!"
Small groups work well when cooking with kids!
4. The kids make balls out of the dough.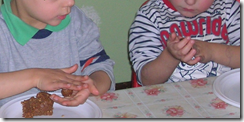 5. They dip the balls into the sprinkles or chopped nuts.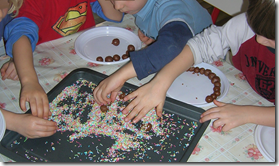 Emanuela wrote the other day, "Today we made the confetti carnival at school, with children 3 and 4 years old! Very nice!"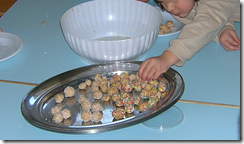 Thanks for sharing the recipe and photos Emanuela!
Mama Lisa
This article was posted on Wednesday, March 2nd, 2011 at 5:45 pm and is filed under Carnival, Confetti Doughnut Holes, Countries & Cultures, Desserts, Holiday Recipes, Holidays Around the World, Italian Cuisine, Italy, Recipes for Carnival, Recipes of the World. You can follow any responses to this entry through the RSS 2.0 feed. You can skip to the end and leave a response. Pinging is currently not allowed.
Leave a Reply