Italian Chocolate Brandy Truffles for the Folks – Popular for Carnival in Venice!
March 2nd, 2011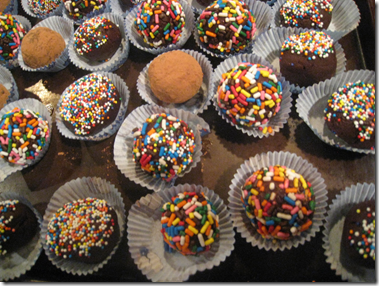 Emanuela Marsura sent me this recipe for Chocolate Brandy Truffles that's popular at Carnival time in Italy. She lives outside of Venice where Carnival is a big festival.  She refers to these as "truffles for mom and dad"!
Chocolate Brandy Truffles

Emanuela's Ingredients

1 pound powdered sugar
1 pound unsweetened cocoa
1 pound mascarpone
2 cups dry biscuits (such as gold biscuit)
1 egg yolk
50 g butter
1 small glass of brandy

[It sounded like Emanuela's quantities of ingredients would make a large amount of truffles, so I cut it in half. Below is what I used. My recipe yielded about 25 – 30 truffles.]

Mama Lisa's Ingredients

8 oz. Powdered Sugar
8 oz. Unsweetened Cocoa Powder
8 oz. Mascarpone (I used Cream Cheese)
26 Biscuits (I used Social Tea brand)
1 Egg Yolk
3 T. Melted Butter
3 oz. Brandy
Sprinkles or Cocoa Powder for Coating the Truffles

1.  Crush the biscuits, crumbling them as much as you can and put them in a bowl.

I cheated and used a food processor!

2. Add the mascarpone to the egg yolk. I used an immersion blender to "cream" the cheese and egg.  (I couldn't find mascarpone the day I made this, so I substituted cream cheese.)

3.  Add the biscuits begin kneading with your hands. (I used a spatula.)

4.  Then add the powdered sugar, cocoa powder, butter (previously melted) and a small glass of brandy.

5. Continue to mix everything by hand, until the mixture becomes solid enough to make a ball.

6.  Divide it into 1 inch balls and place them inside mini paper cups.  (I used the mini-muffin paper cups we already had).

7.  Once all the balls are made, dip the visible part of the truffle into rainbow sprinkles or cocoa powder.

Note: My truffles weren't keeping the sprinkles on them.  So I dipped them in brandy and then in the sprinkles or cocoa powder.  This gave them an extra kick and helped the topping stick!

Refrigerate for several hours before serving.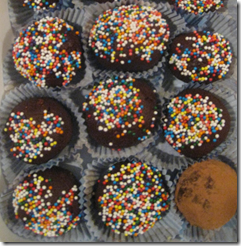 These are yum-yum!  Thanks for sharing Emanuela!
Mama Lisa
*****
RAW EGG WARNING:
The American Egg Board States: There have been warnings against consuming raw or lightly cooked eggs on the grounds that the egg may be contaminated with Salmonella, a bacteria responsible for a type of foodborne illness.
Leave a Reply