Young Kids Learning by Cooking in School
March 2nd, 2011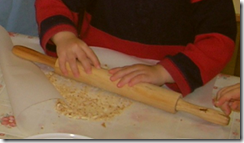 Emanuela Marsura is a preschool teacher in Italy.  She wrote to me about how her students cook in her school: "We do cooking every Friday. We have prepared: gnocchi with potatoes, taralli napoletani, cakes and many biscuits! The Children love Friday!" 
Cooking is a great opportunity for kids to learn… they measure the ingredients (learning about Math), have fun mixing them, rolling them out and shaping the food (all good for coordination).  They see what goes into making something (a bit of Science). Finally, they have the fun of eating their creations, giving them the confidence that they can learn to do the things that adults do.
Thanks for sharing Emanuela and bon appetit!
Mama Lisa
6 Responses to "Young Kids Learning by Cooking in School"
Leave a Reply