Italian Carnival Confetti Chocolate Confection Perfection Balls
February 22nd, 2011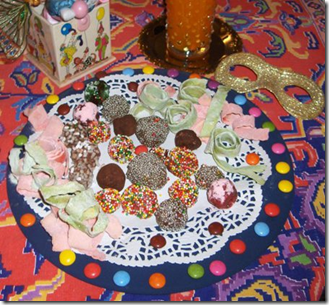 Emanuela Marsura sent me a recipe for an Italian Carnival dessert that kids can help make. She's from a town near Venice, Italy. Emanuela calls these Carnival Confetti Cakes (coriandoli dolce di Carnevale). I made them and found they taste a bit like Dunkin Donut's chocolate munchkin doughnut holes with a hint of the slightly more intense flavor of truffles.
Emanuela wrote, "Confetti Cakes for Carnival is a recipe that requires no cooking and because of this you can make them with children as young as three years old."
I worked with Emanuela's recipe and came up with the following recipe that's Americanized.  There was some guesswork involved about quantities since, for example, an Italian packet of biscuits may be different from an American one.
Ingredients
6 oz. Biscuits (I used 1/2 box of Social Tea brand Biscuits)
1 cup Hazelnuts
5 – 6 T. Butter (or 50 grams Ricotta or Mascarpone)
4 T. Cocoa Powder
6 T. Sugar
3 T. Cold Milk
Nonpareils (Sprinkles), Chopped Hazelnuts and/or Shredded Coconut for dipping the cookies
I used the food processor for much of this recipe.  If kids are involved, more can be done by hand.
1.  Crumble the biscuits.  I found a food processor worked well to break up the biscuits.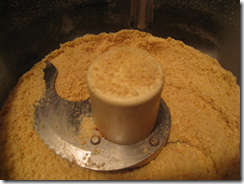 2.  Add the hazelnuts into the food processor to break into little pieces.
3.  Add in cocoa powder, sugar, and butter.  Mix well.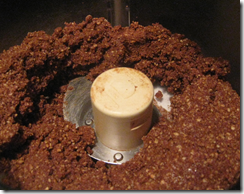 4.  Add in the cold milk until you can form one large smooth ball.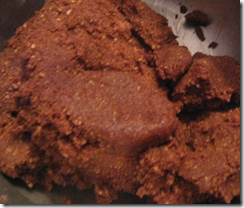 5.  Put the large ball into a bowl and form smaller balls from it by hand.  (I had my daughter and her friend help me with this part.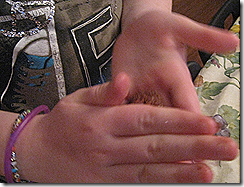 6.  Put out separate little bowls of nonpareils, chopped hazelnuts and shredded coconut.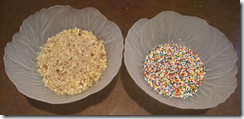 7.  Dip the balls into the bowls.  Only one topping per ball.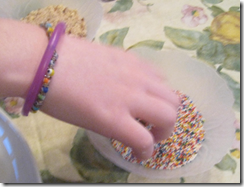 Refrigerate for at least 2 hours.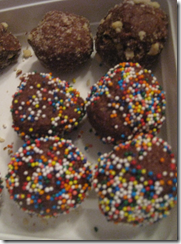 Yum yum!
Many thanks to Emanuela for sharing her recipe and photo at the top of the page!
Mama Lisa
This article was posted on Tuesday, February 22nd, 2011 at 2:45 pm and is filed under Carnival, Confetti Doughnut Holes, Countries & Cultures, Desserts, English, Holiday Recipes, Holidays Around the World, Italian Cuisine, Italy, Languages, Recipes for Carnival, Recipes of the World. You can follow any responses to this entry through the RSS 2.0 feed. You can skip to the end and leave a response. Pinging is currently not allowed.
5 Responses to "Italian Carnival Confetti Chocolate Confection Perfection Balls"
Leave a Reply