Basic Icing for Sugar Cookies – Recipe
January 13th, 2011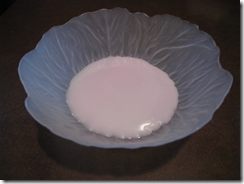 Sugar Cookies are very popular to make in the US for holidays.  Here's a simple recipe for icing for them:
1 cup Confectioners Sugar
1 T. plus 1 t. Water
1 – 2 Drops of Vanilla Extract for taste (optional)

Put the Confectioners Sugar in a bowl and add the Water.  Stir till smooth.

You can make the icing more flavorful by adding a drop or two of vanilla,  almond extract or orange blossom water to the mixture.  Then stir it well.

You can make the icing thinner or thicker if desired: add a little more water to thin it or confectioners sugar to thicken it.
Below are some cookies with icing.  The ones dripping on the right have an extra 1/4 teaspoon of water.  This shows how little water you need!

You can also add food dye if you want colors.
NOTE: You will often see recipes for Royal Icing that go with Sugar Cookies.  These have the addition of either egg whites or meringue powder.  Royal Icing is stiffer than this icing above (it's more like plaster) and is largely used for decoration.
This article was posted on Thursday, January 13th, 2011 at 6:13 pm and is filed under Christmas, Christmas Cookies, Christmas Countdown, Cookies, Decorating Cookies, Desserts, Icing for Sugar Cookies, Recipes of the World, Sugar Cookies. You can follow any responses to this entry through the RSS 2.0 feed. You can skip to the end and leave a response. Pinging is currently not allowed.
Leave a Reply