Recipe for Traditional Sugar Cookies
January 11th, 2011
Sugar Cookies are traditionally made in the US for holidays and other special events, especially when kids are there.  In the past, I posted a recipe for Sugar Cookies made with whole wheat pastry flour.  Here's a recipe for more traditional Sugar Cookies…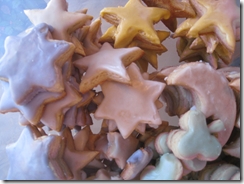 Recipe for Sugar Cookies
1 cup Butter
3 Eggs
1 T. Vanilla
1 cup Sugar
1 cup Powdered Sugar
1/4 t. Salt
1 1/2 t. Baking Powder  
3 cups Multipurpose Flour

Icing

1 – 2 cups Confectioners Sugar 
2-3 T.  Water (more or less)

Leave out butter to soften while you preheat the oven, grease your cookie sheets with butter and gather your supplies.

Preheat oven to 350 F.

1.  Cream together the Butter and Eggs until smooth with an immersion blender or hand mixer.

2.  Add the Vanilla, Sugar and Powdered Sugar.  Mix well.

3.  Add the Salt and Baking Powder and mix well.

4.  Add in the Flour a cup at a time and mix well.  You may need to mix it with a wooden spoon by the end.  You want a smooth dough.  You can add a little extra flour or powdered sugar to get the right consistency. 

5.  Form dough into two balls and refrigerate them for at least an hour.

6.  Roll out the dough on a clean surface covered with a light layer of flour. You want the dough to be rolled out to about 1/8th to 1/4th of an inch thick.

7.  Cut out the shapes with cookie cutters and place on pan leaving about an inch between the cookies.

8.  Bake for about 7 minutes until golden on the bottom.

9. Once the cookies cool off you can put icing on them. 
Here's how you make basic icing for sugar cookies:
Icing

1 – 2 cups Powdered Sugar
2 – 3 T. Water (more or less)

Mix powdered sugar and water to make the icing.  Slowly add enough water to get a smooth consistency (like the thickness of honey or a little thinner).  Mix by hand with a spoon until smooth.

You can divide up the icing into separate bowls and mix in food coloring to get different colored icing. I made my own natural food coloring and will describe how to make natural food dyes in an upcoming post.
Enjoy!
Mama Lisa
This article was posted on Tuesday, January 11th, 2011 at 5:51 pm and is filed under Cookies, Cooking with Kids, Decorating Cookies, Decorating Cookies, Desserts, Holidays Around the World, Icing for Sugar Cookies, Parenting, Recipes of the World, Sugar Cookies. You can follow any responses to this entry through the RSS 2.0 feed. You can skip to the end and leave a response. Pinging is currently not allowed.
2 Responses to "Recipe for Traditional Sugar Cookies"
anickH Says:
November 10th, 2011 at 3:53 am

Those look gorgeous

Basic Icing for Sugar Cookies – Recipe Says:
December 23rd, 2015 at 2:18 pm

[…] Sugar Cookies are very popular to make in the US for holidays.  Here's a simple recipe for icing for them: […]
Leave a Reply