Recipe for Sugar Cookies with Whole Wheat Flour
January 10th, 2011
Sugar cookies are nice to make for holidays and special events.  They look so festive.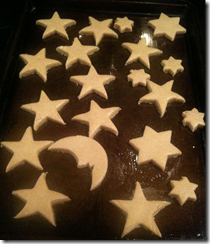 Making cut out cookies is a fun way to get your kids to learn about baking.  They can start learning to follow a recipe, roll out dough and then make the shapes with cookie cutters. 
This recipe makes sugar cookies a little healthier by substituting whole wheat pastry flour for some of the multipurpose flour, canola oil for some of the butter, and honey for some of the sugar.
Healthier Recipe for Sugar Cookies

Ingredients

1/2 cup Canola Oil
1/2 cup Butter
3 Eggs
1 T. Vanilla
1/2 cup Honey
1/2 cup Brown Sugar
1/2 cup Powdered Sugar (plus more for rolling out dough)
1/4 t. Salt
1 1/2 t. Baking Powder
2 cups Whole Wheat Pastry Flour
2 1/2 cups Unbleached Multipurpose Flour

Icing Ingredients

2 cups Confectioners Sugar
Water

Leave out butter to soften while you preheat the oven, grease your cookie sheets with butter and gather your supplies.

Preheat oven to 350 F.

1.  Cream together the Canola Oil, Butter, and Eggs until smooth.  I use an immersion blender or a hand mixer.

2.  Add in the Vanilla, Honey, Brown Sugar and Powdered Sugar.  Mix well.

3.  Add in the Salt and Baking Powder and mix well.

4.  Add in the Whole Wheat Pastry Flour and mix well.  Then with a wooden spoon, stir in the Multipurpose Flour.  You want a smooth dough.  If you need to, you can add a little extra flour or powdered sugar to get the right consistency. 

5.  Form dough into two balls and refrigerate them for at least an hour.

6.  Roll out the dough on a clean surface covered with a light layer of powdered sugar. You want the dough to be rolled out to about 1/8th to 1/4 of an inch thick.

"Roll it, pat it and mark it with a 'B'!"

7.  Cut out the shapes with cookie cutters and place on pan leaving about an inch between the cookies. 

8.  Bake for about 7 minutes until golden on the bottom.

9. Once the cookies cool off you can put icing on them. 
Here's how you make basic icing for sugar cookies:
Icing

I use confectioners sugar and water to make the icing.  Add enough water to the powdered sugar to get a smooth consistency like the thickness of honey or a little thinner. 

The Domino Sugar Site suggests using meringue powder too.  I don't think it's necessary. Their measurements are:

2 cups Confectioners Sugar
1 1/2 T. Meringue Powder
3 T.  Warm Water

I mix mine by hand with a spoon. The Domino recipe suggests mixing it at medium speed with a hand mixer for 5 -7 minutes.

You can use more or less water for desired consistency. More water will make it more transparent and like a glaze. Also, you can divide up the icing into separate bowls and add food coloring to get different colors. I made my own food coloring and will describe how to make natural food dyes in an upcoming post.
Share your cookies with friends and relatives.  It's much healthier for 10 people to have 3 cookies each, then for 3 people to have 10 cookies each!  Plus, your friends will appreciate the kind gesture.
Enjoy!
Mama Lisa
This article was posted on Monday, January 10th, 2011 at 9:30 pm and is filed under Christmas Cookies, Cookies, Cooking with Kids, Decorating Cookies, Decorating Cookies, Desserts, Food and Nutrition, Healthy Eating, Holidays Around the World, Icing for Sugar Cookies, Parenting, Recipes of the World, Sugar Cookies, Sugar Cookies made with Whole Wheat Flour, Teaching, Whole Wheat Sugar Cookies. You can follow any responses to this entry through the RSS 2.0 feed. You can skip to the end and leave a response. Pinging is currently not allowed.
One Response to "Recipe for Sugar Cookies with Whole Wheat Flour"
Healthier Recipe for Sugar Cookies Version 2 Says:
December 23rd, 2015 at 2:19 pm

[…] already posted one version of this recipe.  This new one uses less eggs and less ingredients overall.  My husband likes it and he […]
Leave a Reply