Autumn & The Red Dragonfly in Japanese Haiku Poems
September 22nd, 2010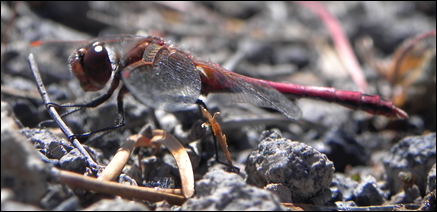 Dragonflies are a sign of the seasons in Japan.  The red dragonfly is specifically a sign of Autumn.  There are Japanese poems in the haiku style about this theme. 
Haiku is an unrhymed Japanese verse form in three lines only.  The 3 lines have five, seven, and five syllables respectively. 
Below are some haiku poems about red dragonflies and autumn.  The original translations are from A Japanese Miscellany by Lafcadio Hearn (1901).  I rewrote them in English to fit the haiku form.  Enjoy!
1. Aki no ki no – The Start of Autumn
Aki no ki no
Aka tombo ni
Sadamarinu.
The start of Autumn
Is always decided by
The red dragonfly.
[Original Translation:That the autumn season has begun is decided by the (appearance of the) red dragon-fly.]
Author: Kaya Shirao (1738 – 1791)
2. Onoga mi ni – O The Dragonfly
Onoga mi ni
Aki wo somenuku
Tombo kana!
O the dragonfly,
He has dyed himself with the
Color of Autumn.
or a little more liberally written…
O the dragonfly!
He has dressed himself in the
Color of Autumn.
[Original Translation: O the dragon-fly ! He has dyed his own body with (the color of) autumn!]
Here's a similar one:
3. Aki no hi no – The Color of Autumn
Aki no hi no
Someta iro nari
Aka-tombo!
Dyed he is with the
Color of Autumnal days,
O red dragonfly.
[Original: Dyed he is with the
color of autumn days 
O the red dragon-fly !
Author: Bakusui (1718 – 83).
4. Kurenai no – Crimson Gossamer
Kurenai no
Kagero hashiru,
Tombo kana!
Like the fleeting of
Crimson red gossamer-threads,
Flash the dragonflies.
[Original translation: Like a fleeting of
crimson gossamer-threads,
the flashing of the dragon-flies.
I welcome info about the authors where we don't have it, the original Japanese text and alternate translations.  You're always welcome to post other red dragonfly or autumnal haiku poems in the comments below.  We also welcome recordings if anyone would like to recite any of these Haikus.
Many thanks to Ray Lee for the photo which inspired this post!
Autumn is upon us here in the northern hemisphere.  Enjoy the season! 
Mama Lisa
P.S. What I particularly like about Ray's photo is how the dragonfly is holding the twig with it's front "legs".
This article was posted on Wednesday, September 22nd, 2010 at 3:32 pm and is filed under Autumn Song, Countries & Cultures, Fall, Haiku, Japan, Japanese, Japanese Poems, Languages, Photos, Photos of Animals, Poems about the Fall, Poetry, Poetry about the Seasons, Seasonal. You can follow any responses to this entry through the RSS 2.0 feed. You can skip to the end and leave a response. Pinging is currently not allowed.
One Response to "Autumn & The Red Dragonfly in Japanese Haiku Poems"
Heather Says:
March 12th, 2012 at 12:31 pm

These are great! Thank you
Leave a Reply